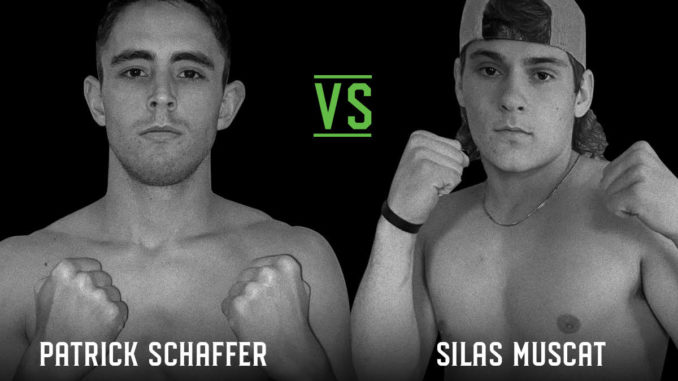 On paper, the match-up of Patrick Schaffer (1-0) and Silas Muscat (also 1-0), is as hard to call as they come. On closer review, it doesn't get much easier.
Muscat is tall and moves forward in a Muay Thai stance. The Gym-O prospect constantly targets kicks up and down the body, including a few spinning techniques. He does not let his hands go offensively, but will use them effectively to respond as a countermeasure. Inside kicking range, Muscat will look for the takedown to control Schaffer and use ride time to gain a judge's decision.
But Schaffer has a tendency to let his hands fly a little more, posing a threat in the pocket. And he's adept at transitioning from striking to dominant grappling. His bout with Tanner Rice at Strikehard 53 in 2019 ended after a flurry of punches brought the bout to the ground, where Schaffer quickly established top control and secured an Americana submission for the win. He's been in camp with the Hayastan team all year long, helping with preparations for other teammates. And, as they've proven time and again, the coaches at Hayastan wouldn't release him if he wasn't ready. Expect Schaffer to land his own takedown or pressure Muscat with strikes, causing him to take a bad shot and expose his neck to a choke.
Hayastan MMA is on a steady roll. Expect to see Schaffer with his hand raised at the end of the fight.
---
Fight For It XII takes place on Dec. 18 in Gaffney, S.C. Purchase your tickets now at fightforitcompany.com.
Be sure to download the Fight For It app on on The App Store or Google Play to pick your fantasy winners at Fight For It XI. The pool is free to play and will award the top three scorers with their share of a $500 cash prize.