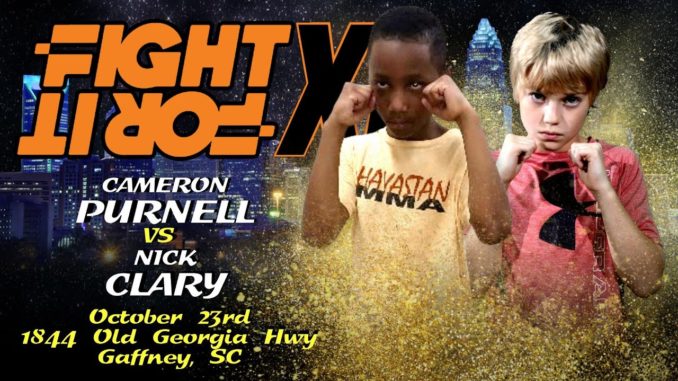 Once again the youth showed up ready to throw down at Fight For It XI. Cameron Purnell, of Hayastan MMA, entered the cage for his kickboxing debut against the more experienced Nick Clary, of Eng School of Self-Defense. And Clary's experience — and stamina — were on full display as he walked Purnell down and unloaded flurry after flurry of punches and kicks against the cage.
But Purnell was undeterred. Even after three standing eight counts and a low-blow, Purnell's gameness kept him in the fight, and by the second round, he was finding his rhythm answering Clary's combos with crisp counters of his own. Still, despite his toughness, Purnell's more defensive approach wasn't enough to evade Clary's onslaught. After one too many close-quarters batterings against the fence, the Hayastan team threw in the towel as the referee called a stop to the fight midway through round two.
Purnell's grit and determination will serve him well in future outings, as he gets more comfortable answering his opponents shots under pressure. But Clary's sprint-speed momentum and unrelenting hailstorms of strikes were more than enough to secure a dominant victory this time.
Looking for more combat sports action? Download the Fight for It App to play Daily Fantasy for Combat Sports on iPhone or Android!