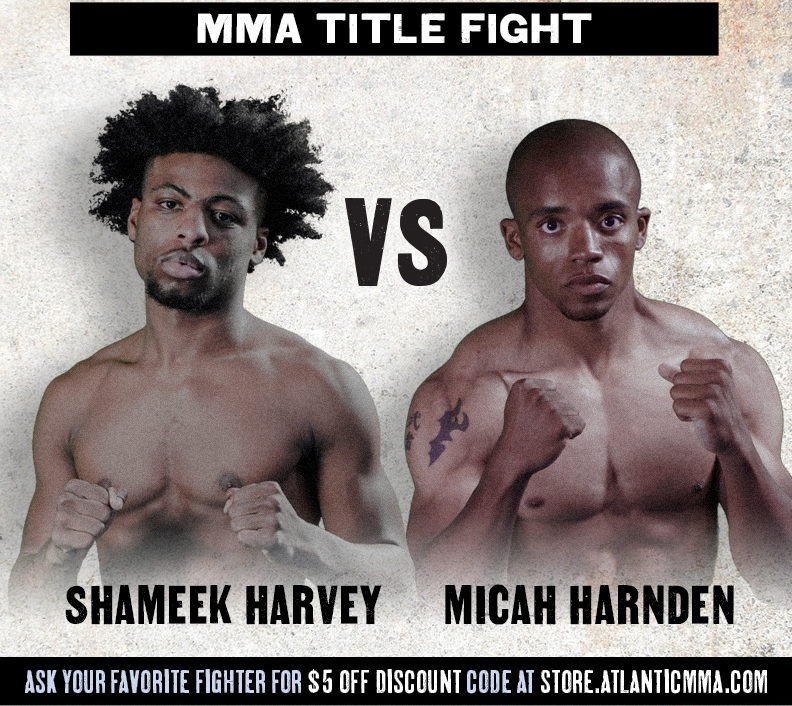 The title match between defending bantamweight champion and Fight For It Grand Prix frontrunner Micah Harnden and the undefeated challenger Shameek Harvey started as one might have expected. Both men showing respect for the danger his opponent posed, found range through exchanges of long kicks to the leg and body, each looking for an opening to showcase their strong grappling games.
Through four back-and-forth fights, each man had his moments, with Harvey landing significant takedowns and heavy punches, while Harnden showed explosive sweeps and mat returns and a grueling pressure when on top. At moments, it seemed either man could finish the fight at any moment.
Unfortuantely, the fight did end quickly, but now how anyone would have hoped. Having moved the bout to a ring due to the slippery surface of the cage, the fighters were forced to adjust their gameplans to accommodate the more porous and malleable boundaries of the ring. Wall walking would not be an effective escape from a ground engagement. Takedowns against the wall proved extra risky. And indeed, it was a takedown attempt that sent Harvey tumbling out of the ring and onto the ground, where he sustained an injury that prevented him from carrying on.
Due to the technical stoppage, Harnden retains his title and his position at the top of the Fight For It Grand Prix, but a rematch seems more than warranted as soon as Harvey's back in fighting shape.