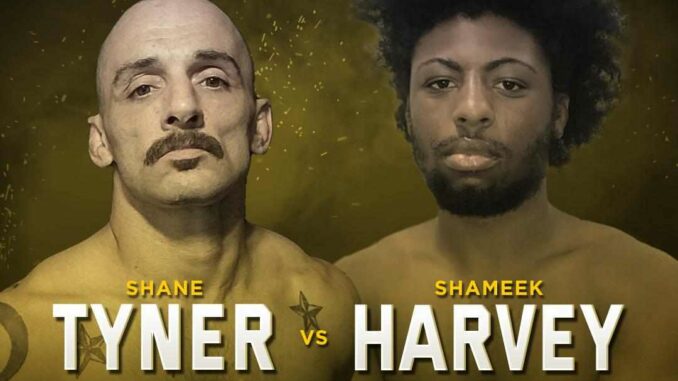 Shane Tyner finds himself facing an uphill battle against the formidable Shameek Harvey. With a record of 4-10-0, Tyner has proven his tenacity and willingness to greet a challenge head-on, but the 5-1 Harvey boasts almost every advantage on paper. With his stronger record — including a recent a winning streak — and a younger age, Harvey is the clear favorite.
But MMA is full of classic underdog victories. In this bout, Tyner draws parallels to Randy Couture's iconic bout against Tim Sylvia. Seeking redemption after a string of losses, Tyner's determination to claim victory will be the deciding factor here. But even with the extra dose of motivation, it will be an uphill battle for Tyner, who lacks the championship accolades and experience that Couture brought to the table.
Anything can happen in the unpredictable world of mixed martial arts, and we have seen time and again that past records do not determine the outcome of a fight.
Harvey's favorable statistics and Tyner's recent struggles in the cage might suggest a safe bet, but Tyner's determination to defy expectations and channel the spirit of Couture's iconic upset makes this an intriguing matchup for MMA fans on July 29 in Spartanburg, S.C.
---
Combat sports action returns to the Downtown Spartanburg Marriott in Spartanburg, SC when Fight For It XV kicks off on Saturday, July 29. Catch every bout live in-person, or via pay-per-view, with tickets available now at fightforitcompany.com.
And be sure to download the Fight For It app on on The App Store or Google Play to pick your fantasy winners at Fight For It XV. The pool is free to play and will award the top scorers with their share of a $250 cash prize.
Fight For It XV is brought to you by Budweiser of Spartanburg, Benson Hyundai, 9 Lives Tattoo, 92.5 WESC, WSSL 100.5, South Carolina Army National Guard, and the 9Round Kickboxing Fitness of Spartanburg and Boiling Springs.