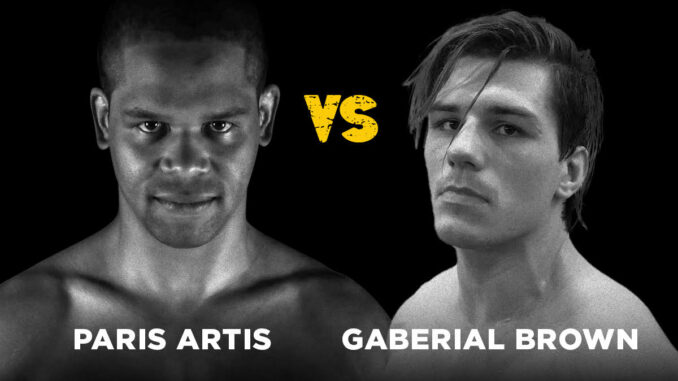 Get ready for the ultimate showdown between two of the fiercest fighters in the pro ranks! On Feb. 18, Paris Artis and Gaberial Brown will collide in a battle that promises to deliver non-stop action and heart-pumping excitement. On paper, Artis may seem to have the upper hand with his 5-1 record, but delve deeper and you'll uncover a tale of two warriors with the potential to steal the show at Fight For It XIV.
Artis might have the advantage in terms of experience, but Brown is no slouch. With 22 rounds completed in just three years of fighting, Brown's record already rivals the 24 rounds Artis has accumulated over a longer span. Artis is known for finishing opponents with a mix of punches, kicks, and submissions, while Brown is a relentless competitor who rises to the challenge, taking opponents into the late rounds and earning hard-fought decisions.
How this fight will go down — whether a quick finish or a brawl to the final bell — is anyone's guess. Further parsing both men's histories to examine their opponents adds even more thrill to this matchup. Artis's opponents have logged a cumulative 107 fights and a 60% win ratio, while Brown's former adversaries have collected a total of 74 fights with a 61% win ratio. In other words, neither of these guys has built his record by is knocking down cans.
What is certain with these close margins and tough tests is that this fight is about much more than stats and records. It's a battle of will, skill, and endurance, where both fighters will be pushed to their limits and beyond. It's not a bout to be missed.
---
Combat sports action returns to the Downtown Spartanburg Marriott in Spartanburg, SC when Fight For It XIV kicks off on Saturday, February 18. Catch every bout live in-person, or via pay-per-view, with tickets available now at fightforitcompany.com.
And be sure to download the Fight For It app on on The App Store or Google Play to pick your fantasy winners at Fight For It XIV. The pool is free to play and will award the top three scorers with their share of a $500 cash prize.