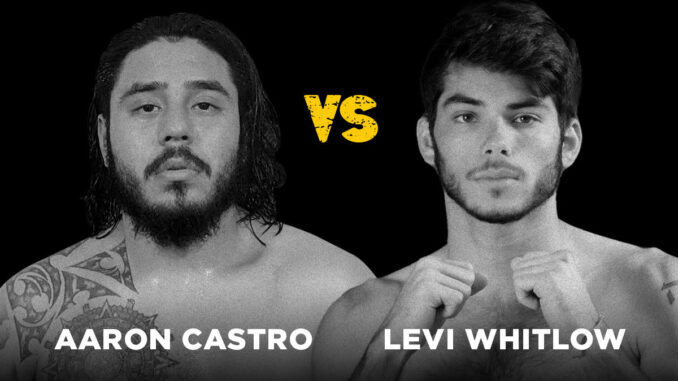 Aaron Castro and Levi Whitlow, both veterans of Fight For It events, will be making their professional debuts together at Fight For It XIV. But it won't be the first time the two rising prospects have squared off against each other. At Rowan County Fight Night 3, in 2019, Castro and Whitlow went the distance in a tight battle that ultimately saw Castro earn the judges' favor.
Look for Whitlow to seek revenge alongside his first professional win. And if his last fight — a first-round TKO over Joey Ward at Ultimate Battle Grounds 7 in 2021 — is any indication, he'll look to earn that victory quickly, and decisively. That victory was, indeed, a return to form for the Gym-O prospect, who kicked off his amateur career with a pair of stoppage victories in 2017 and 2018.
But no matter how confident he is with his strikes, he'll have to test them against the man who our own commentator Ses Stevenson dubbed, "quite possibly North Carolina's best boxer in MMA." Castro's outing at Fight For It XIII, ended in a draw against fellow striking specialist "Prince" Ahmed Khamis. But with two of his three amateur victories arriving via stoppage, Castro has more than proven his ability to drop the hammer on opponents who underestimate his striking ability.
An explosive bout is all but guaranteed, but Castro has proven himself capable of beating Whitlow before. Two and a half years later though, anything can happen as these two proven combatants enter the professional ranks.
---
Combat sports action returns to the Downtown Spartanburg Marriott in Spartanburg, SC when Fight For It XIV kicks off on Saturday, February 18. Catch every bout live in-person, or via pay-per-view, with tickets available now at fightforitcompany.com.
And be sure to download the Fight For It app on on The App Store or Google Play to pick your fantasy winners at Fight For It XIV. The pool is free to play and will award the top three scorers with their share of a $500 cash prize.