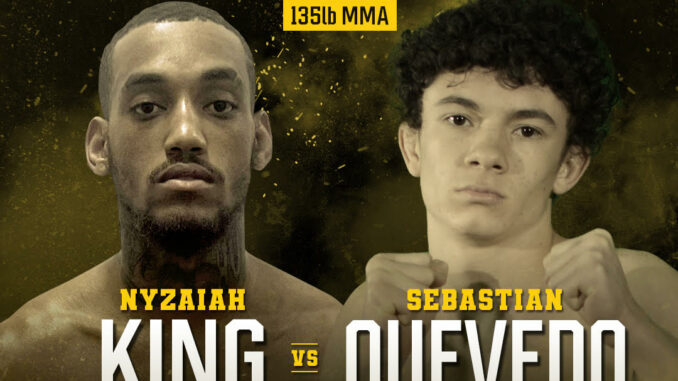 Anticipation is high for the clash between Nyzaiah King and Sebastian Quevedo at Fight For It XVII. Both men have received resounding ovations in previous bouts, with their careers already epitomizing the promising future of MMA in the Carolinas.
While both fighters have faced challenges in earning judges' decisions, they've both also delivered impressive victories. King is aligned with Hayastan MMA, while Quevedo is part of Team ROC Harrisburg — both highly regarded teams. Their affiliation with these respected training grounds underscores the expectation of extraordinary skill, speed, and unwavering fighting spirit. And both men have already proven they can meet and exceed those expectations.
Both King and Quevedo harbor ambitions to become the next stars for Fight For It, potentially paving the way for a future championship matchup between the two. But tonight, their ability to handle the pressure of performing in front of hometown fans could set the tone for the entire MMA card, elevating the stakes for everyone.
This is one bout you won't want to miss.
Quevedo has showcased an elevated level of grappling prowess, with a knack for finishing opponents who linger in a position for too long. Conversely, King exhibits resilience, displaying the capacity to work his way back to his feet. King's proficiency against the cage, a hallmark of Hayastan's training, adds an intriguing dynamic to his fighting style. However the fight evolves, however, both men share a willingness to engage in a relentless, all-out battle.
The NC Commission mandates at least one corner man, but don't expect these two combatants to lean on their advice. The magnetic appeal of the crowd is likely to influence these explosive talents. Think this fight is going to the judges? Forget about it. Instead, anticipate an electrifying showdown as King and Quevedo deliver the kind of "fight of the night" candidate that fans enjoy.
---
Fight For It XVII brings a heavy slate of kickboxing and MMA action to Charlotte's Grady Cole Center on Saturday, Nov. 4. Catch every moment live or streaming via pay-per-view. Kickboxing prelims start at 3 p.m., and the MMA card ignites at 7 p.m. Tickets for the live event and pay-per-view stream are available now via fightforitcompany.com.
And be sure to download the Fight For It app on on The App Store or Google Play to pick your fantasy winners at Fight For It XIV. The pool is free to play and will award the top three scorers with their share of a $500 cash prize.