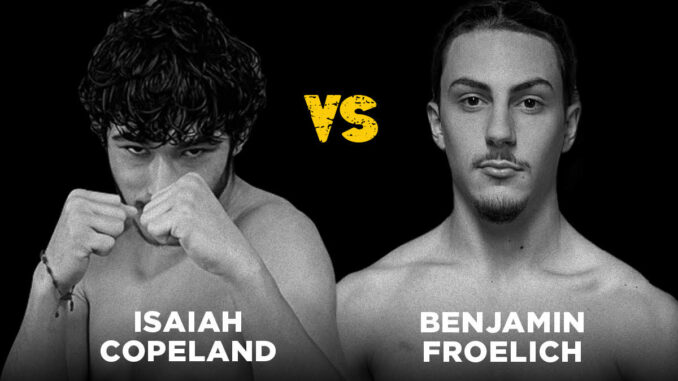 Young kickboxers Isaiah Copeland and Benjamin Froelich will share a kickboxing debut at Fight For It XIV, but the slates aren't exactly even. Team ROC's prospect Copeland might need to lean into his kicking game early to overcome Froelich's hands, which have been tested in the boxing ring.
The 1-0 boxer and Combat Performance prospect Froelich has the advantage of competitive experience, and faith in his punching skills based on that previous outing. How he'll adjust to the defending and attacking with the legs could make the difference in this bout.
With both men barely into their 20s, there's plenty of time to hone their strengths and build up defenses after this bout, but on Feb. 18, only one can claim his first kickboxing victory. Tune in for Fight For It XIV, to find out if Copeland can bring a well-rounded game to defuse Froelich's boxing experience, or if Froelich can lean on his experience to outgun Copeland.
---
Combat sports action returns to the Downtown Spartanburg Marriott in Spartanburg, SC when Fight For It XIV kicks off on Saturday, February 18. Catch every bout live in-person, or via pay-per-view, with tickets available now at fightforitcompany.com.
And be sure to download the Fight For It app on on The App Store or Google Play to pick your fantasy winners at Fight For It XIV. The pool is free to play and will award the top three scorers with their share of a $500 cash prize.