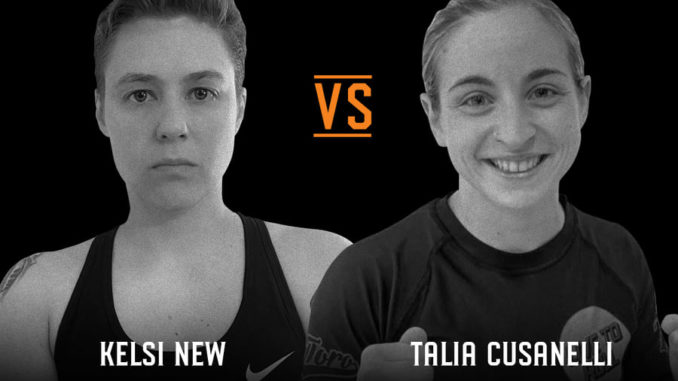 On paper, it would seem as if Kelsi New has the advantage in MMA. She has fought twice, losing both bouts to judges' decisions, but her 18 minutes of cage experience offer invaluable experience that her debuting opponent won't have.  
Still, New will need all of those insights when she faces Talia Cusanelli. Coming from kickboxing, Cusanelli does not retreat. She takes instruction well from her coaches, and has some pop in her strikes. She has spent a considerable amount of time being mentored by Trevor Hayes and training with Samantha Seff. Given that, we can expect a vicious clinch from Cusanelli with plenty of knees to the body.
New should focus her efforts on taking the fight to the ground. In previous fights, New was content to eat strikes because her opponents would land and return to long-range. And despite what previous opponents might have landed, what Cusanelli plans to feed New will leave a bitter taste. I expect Cusanelli to win by KO in round three.
---
Fight For It XI takes place on Oct. 23 in Gaffney, S.C. Purchase your tickets now at fightforitcompany.com.
Be sure to download the Fight For It app on on The App Store or Google Play to pick your fantasy winners at Fight For It XI. The pool is free to play and will award the top three scorers with their share of a $500 cash prize.