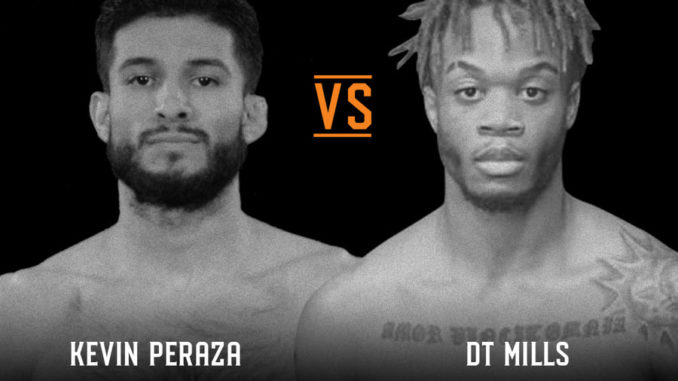 Kevin Peraza should have the momentum coming into this fight. At Fight For It X in February, the Hayastan MMA prospect Peraza earned a unanimous decision victory over Michael Hall, pushing Peraza to a solid 2-2 record. And if Peraza has shown anything in his four fights to date, it's tenacity to go the distance. Each of his bouts has been decided by judges, a testament to Peraza's ability to weather storms and come back swinging.
Against, Hall, too, Peraza showed a deadly patience as he sought his openings for the takedown. On the mat, Peraza smothered Hall with top pressure and a barrage of ground and pound that made the judges' decision an easy one.
Against Dontarious "DT" Mills, Peraza's gameplan may prove similarly effective. Mills hasn't taken many fights the distance; only one of his five bouts has gone to the scorecards. Win or lose, the Gym-O trained Mills seems eager for the finish. And while Hall has scored two submission finishes of his own, he's also fallen victim twice to the guillotine — most recently against Dan O'Neill at Ultimate Battle Grounds 7 in May.
Here, you can expect a clash of talented grapplers — both from dominant gyms — looking to bring the fight to the mat. But unless Mills can find a submission, look for Peraza to take the lead with his smothering ground and pound attacks.
---
Fight For It XI takes place on Oct. 23 in Gaffney, S.C. Purchase your tickets now at fightforitcompany.com.
Be sure to download the Fight For It app on on The App Store or Google Play to pick your fantasy winners at Fight For It XI. The pool is free to play and will award top scorers with their share of a $500 cash prize.