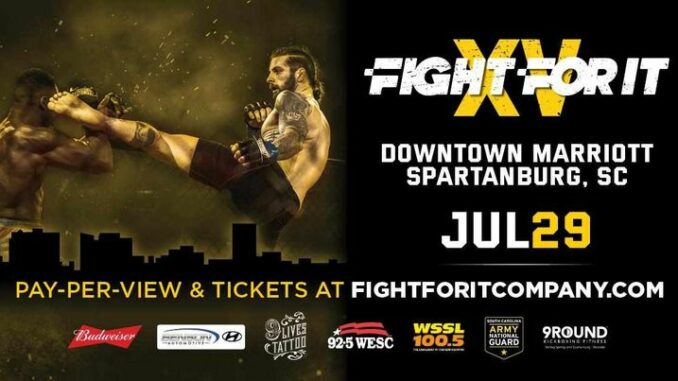 Fight For It XV dared to challenge the limits of greatness. More than a contest of regional talent, the event proved to be a battlefield for athletes to elevate their performances while igniting a volcanic eruption of intensity from their teams. This evenly matched and highly competitive fight card shunned the notion of "upsets" and "underdogs". Instead, fighters were encouraged to rise to legendary status and answer the defining question: "Who are you?"
High-Performance Teams:
Several teams stood out from the field with highlight reel moments punctuating their outstanding results. Carolina Kickboxing Academy secured a 2-0 record, while Lake Norman Muay Thai dominated with a perfect 4-0 showing and secured championships in both Youth and Adult kickboxing divisions. Matrix MMA put on a remarkable display, going 4-0 in the Adult kickboxing division. Carolina Combat Sports and Fitness also impressed with a 3-1 record in the MMA divisions.
Fights of the Night:
In the MMA division, fight of the night honors go to Sebastian Quevedo (Team ROC Harrisburg) and Naman Naoum (Modern Warrior). This encounter was a testament to heritage and courage, captivating fans from the moment they made their entrances. It was a rematch from their Youth kickboxing days, with Naoum emerging victorious back then. Now, a few years later, and under MMA rules, Quevedo proved to be "the man."
The fight of the night from the kickboxing division belongs to Henry Leblanc (ATT Asheville) and Ty'Kier Walker (Ronin Kickboxing). This match was an outstanding technical display between two novice athletes who have been trained properly and released into the chaos at the right moment.
Highlights:
The night was filled with memorable highlights, including a heartwarming family achievement as Ryan and Mason Taylor — a father-son duo out of Lake Norman Muay Thai — both claimed championships in their respective kickboxing divisions, underscoring the perfect balance of family and combat entertainment that Fight For It continues to deliver.
However, the night also delivered a chilling moment, when Asvaldo Hernandez (Matrix MMA) delivered a knockout blow that left Sam Hamilton (Modern Warrior) unconscious for several minutes before medical professionals revived him.
In a night full of so many exciting moments, we'll have to call it a tie for submission of the night. Sebastian Quevedo earned one of them when he snagged an arm bar submission over Naman Naoum, mere seconds before the bell ended the second round. Britton Cain (Carolina Kickboxing) scored the other with a guillotine choke against Jamie Dalrymple (Carolina Combat). Most experts said Cain's path to victory was his striking; Now we know he can do it all.
Breakout Stars:
First and foremost: The Fans. Ride or die, they get every moment and love every fighter.
The event saw new teams such as Battle Born BJJ, Imperial Muay Thai, Ronin Kickboxing, and TMA/BCK Kickboxing. These teams took on some of the more established teams and had a collective 60% win ratio.
Sebastian Quevedo is someone to pay attention to going forward. The stories about the work he put in for this event seem evident by the result of the win. In the dressing room, his mom expressed how she could not hold back the tears.
Jonathan Martin carried the main event, and it's a position that he holds with high respect. This pro has finally earned the name he deserves in the Carolinas. If his response to fans who want a picture is "yes!," and his response to adversity is "yes!," and his response to being challenged is "yes!," then answer me this: When greatness calls, how will Jonathan Martin respond? Yes indeed, we are seeing the birth of something special.
It was an exciting night of fights that left the crowd eager for more. Fortunately, we have plenty more action to look forward to in September and November. This was the first show of a three-event series, and it truly was a great way to kick things off. Fight For It XV has set a new standard for what combat sports performance should be.