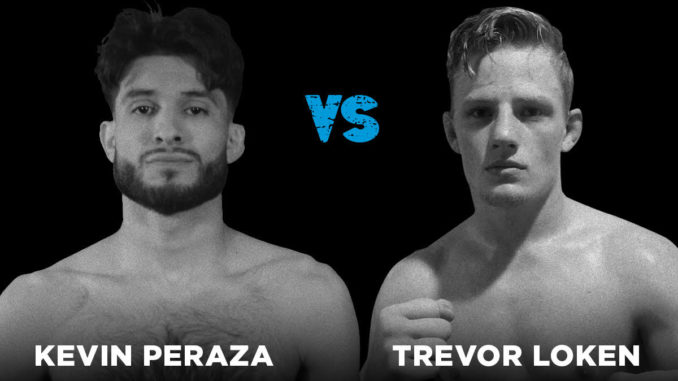 With six fights, and four victories, under his belt, Kevin Peraza has proven his ability to grind out victories under significant threat. He's challenged talented strikers before, in DT Mills and Ahmed Khamis, and out-battled them both. He's shown himself to be a savvy counter-striker and a smothering ground-and-pound tactician on the ground. His fight IQ has only improved with each bout, and he knows what it takes to keep fighting through the final seconds.
But he'll have a strong challenger in the 4-0 Trevor Loken, whose four wins have all come via stoppage due to strikes. At Fight For It XII, Loken put a stop to Titus Moore — another proven finisher — inside of one round. Indeed, Loken has never seen a third round, much less a fifth. His explosive action in the early going has been successful thus far, but against the game and patient Peraza, he'll need a quick finish to keep his edge.
If Peraza can hold Loken at bay through the early rounds, hopefully tiring the heavy hitter, his methodical grind will likely bring him a belt. But don't be surprised if Loken scores another early stoppage and claims the belt for himself.
---
Fight For It XIII goes down Saturday, April 9 at the Downtown Spartanburg Marriott in Spartanburg, SC. Purchase your tickets now at fightforitcompany.com.
Be sure to download the Fight For It app on on The App Store or Google Play to pick your fantasy winners at Fight For It XI. The pool is free to play and will award the top three scorers with their share of a $500 cash prize.