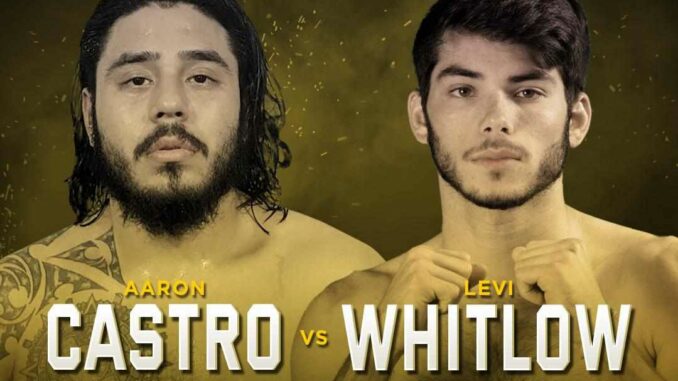 When Aaron Castro and Levi Whitlow enter the cage at Fight For It XV, expect nothing less than an outstanding clash of skills and determination. Both fighters possess impressive records, earned by executing their own unique sets of skills, and both are proven finishers.
Castro holds a remarkable finish rate of 66.7% and has showcased devastating knockout power in previous bouts. On the other hand, Whitlow boasts an even more impressive finish rate of 75.0%, demonstrating his ability to end fights with strikes, as well.
How each of these men have arrived at their astoundingly effective striking will be the deciding factor in this bout. Having built his skills from a boxing foundation, Castro's technical footwork and head movement, combined with his power punches, will present a constant threat. But Whitlow's well-rounded skill set, rooted in Muay Thai, encompasses a wide range of striking and clinch work, which will allow him to apply pressure and capitalize on his reach advantage.
While Castro's knockout power and Whitlow's diverse skill set are both formidable, the determining factors will lie in their ability to implement their game plans effectively. Castro's explosiveness and precision striking could prove challenging for Whitlow if he fails to establish his range and neutralize the aggressive onslaught. Because Castro holds a win over Whitlow, and Whitlow has been stopped once before, I see this fight as a close win for Castro.
---
Combat sports action returns to the Downtown Spartanburg Marriott in Spartanburg, SC when Fight For It XV kicks off on Saturday, July 29. Catch every bout live in-person, or via pay-per-view, with tickets available now at fightforitcompany.com.
And be sure to download the Fight For It app on on The App Store or Google Play to pick your fantasy winners at Fight For It XV. The pool is free to play and will award the top scorers with their share of a $250 cash prize.
Fight For It XV is brought to you by Budweiser of Spartanburg, Benson Hyundai, 9 Lives Tattoo, 92.5 WESC, WSSL 100.5, South Carolina Army National Guard, and the 9Round Kickboxing Fitness of Spartanburg and Boiling Springs.