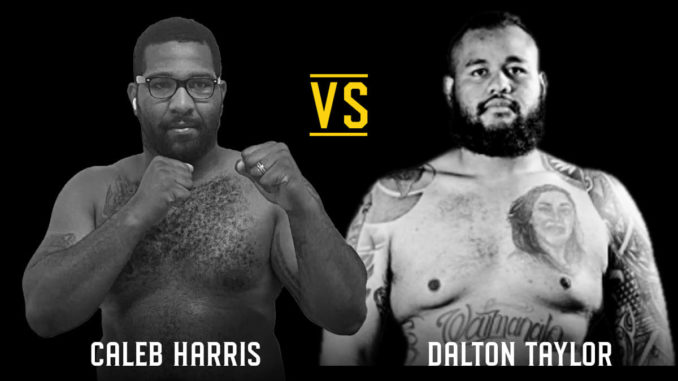 Vying for a heavyweight title, Caleb "The Finisher" Harris and Dalton "Too Strong" Taylor are both aiming for a big finish to win the belt. With similar styles and big personalities to match their big haymakers, this one has huge fight of the night potential.

Harris — a former Elite Warrior, Virginia Cage Fighting, and King of the Cage champion — looks to add another belt to his collection. Training out of Matrix MMA in Greensboro, NC, he is a well-rounded martial artist but looks to keep the fight on the feet. Holding a 6-6 MMA record, he promises to display a whole new set of skills in this fight, one he's dedicated to the memory of his late father.

But Taylor, a heavy-hitting striker out of Embrace Martial Arts in Wake Forest, NC, won't make it easy for Harris. Return to the cage after a year-long layoff, Taylor is ranked as the No. 1 heavyweight in North Carolina, and is the third-ranked heavyweight for the Fight For It promotion. Currently 3-0 in his career, he is looking to remain undefeated and will take the win any way he can get it.

Despite their intimidating statures and martial arts prowess, both fighters are amicable out of the cage, but each is gunning for  highlight reel finish. Don't expect either man to hold back. Taylor has the undefeated edge as the bout approaches, but don't count either man out of the fight as Harris promises an exciting battle in return.
---
Be sure to download the Fight For It app on on The App Store or Google Play to pick your fantasy winners at Fight For It X. The pool is free to play and will award the top three scorers with Fight for It merchandise prize packs.