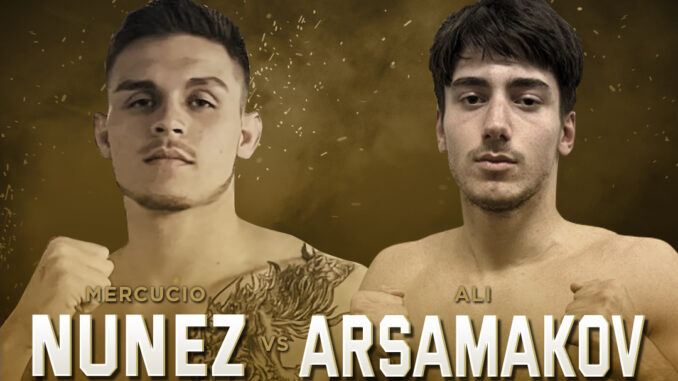 The stage is set for an intriguing showdown between Mercucio Nunez and Ali Arsamakov, two fighters with distinct physical attributes and unique mindsets.
Arsamakov, a 20-year-old welterweight standing 5′ 11″ tall, possesses several physical advantages that could play a crucial role in this matchup. His height advantage not only provides him with an extended reach but also the ability to dictate the range of engagement. This reach advantage may enable him to strike effectively from a safer distance, keeping his opponent at bay and potentially frustrating any attempts to close the gap. Furthermore, Arsamakov's time spent at Carolina Combat Sports & Fitness gives him access to high level training partners and coaching under the watchful eye of Tom Ziegler.
But where Arsamakov might be tempted to rely on his physical gifts, Nuñez's strength is adaptability and dedication. Having prepared diligently for this bout after facing multiple cancellations and opponent changes, Nuñez maintains a straightforward mental approach, focusing solely on the task at hand — defeating his opponent. Nuñez's game is described as relaxed and laid-back until he senses an opportunity, at which point he seizes it with aggression. With 15 years of martial arts experience, six years of wrestling, and three years of jiu-jitsu under his belt, Nunez is comfortable in various aspects of the game and is ready to adapt his strategy as needed.
Nuñez draws inspiration from his family and his role as a karate instructor for young children. Being a positive role model for his students and making his family proud serve as significant motivators in his life. In the fight game, he admires fighters like Conor McGregor, who made a significant impact on MMA, and aspires to emulate McGregor's success during his prime.
Despite the potential highlight nature of this fight, Nuñez maintains a grounded perspective. He does not feel undue pressure to carry the show or succumb to expectations tied to his opponent's camp reputation. Instead, he simply enjoys the act of fighting and looks forward to the opportunity to showcase his skills.
As these two fighters with their own unique attributes and mindsets clash inside the cage, it promises to be a battle of contrasting styles and approaches. Arsamakov's physical advantages and youthful Sept. 16, the cage will bear witness to a compelling test of strategy, endurance, and the pursuit of victory as these warriors compete at Fight For It XVI
---
Fight For It XVI and The Fight For It Expo promise a full day of action on Saturday, Sept. 16 at The Benton Convention Center in Downtown Winston-Salem, NC. Catch every moment of MMA, kickboxing, and more — live in-person, or via pay-per-view, with tickets available now at fightforitcompany.com.
And be sure to download the Fight For It app on on The App Store or Google Play to pick your fantasy winners at Fight For It XIV. The pool is free to play and will award the top three scorers with their share of a $500 cash prize.