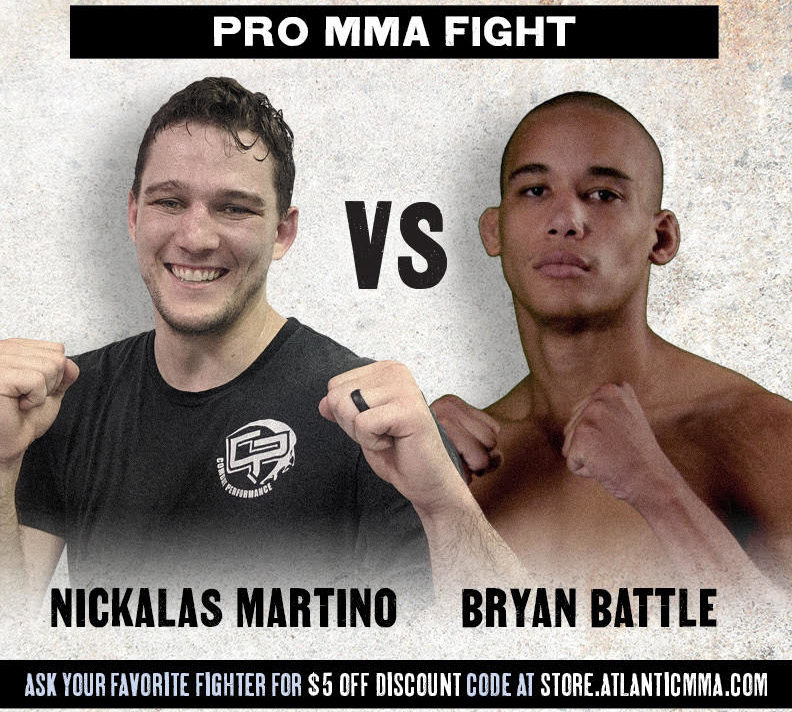 In his professional debut at Fight For It VII, the highly touted prospect Bryan "PoohBear" Battle kept the hype alive with a decisive victory. And the 24-year-old Hayastan MMA fighter took no days off this summer. He'll be back in the spotlight at Fight For It VIII, this time he'll be up against the much more experienced "Overblood" Nickalas Martino.
Martino, a veteran of eight pro bouts comes into the contest looking to bounce back from a loss in early 2019. Fighting out of Combat Performance in Hendersonville, "Overblood" has skills on the ground, but is also known to have a fast, TKD-based striking style. He usually attacks with probing front kicks before rushing to take advantage of any openings his opponents present.
We spoke to Hayastan MMA coach Tom Ziegler about Battle's rising pro career and what to expect when he faces Martino. "Bryan has always had a lot of opponent switches throughout his career," Zeigler said. "We try to prepare for everything."
Referencing Battle's debut, Zeigler added, "We knew Zac Dalen would be tough. He came from an excellent gym and we had no video on him, so we prepared for everything, and we feel like Bryan did very well, dominating a large majority of the fight. We would have liked more aggression from the back mount, and maybe pushed for a finish or choke."
Ziegler said they were drilling finishing from the back within a week of the Dalen fight. "This time around, more opponent changes, so we are more than prepared for whatever happens."
Martino vs. Battle goes down Sept. 14 at Fight for It VIII. Tickets are on sale now at store.atlanticmma.com.