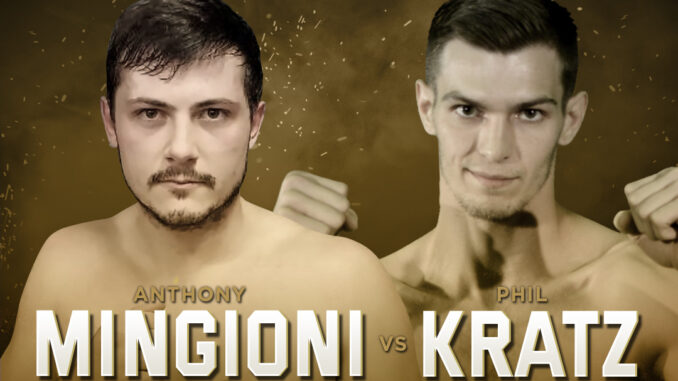 The last time "King" Phil Kratz entered the ring at a Fight For It event, he delivered a decisive victory over Sam Marler and demonstrated an ability to control a fight both at range, and in the clinch. But since that bout at Fight For It XI, Kratz has suffered a pair of losses, tilting his overall record to 4-8. 
Despite recent setbacks, though, Kratz has shown himself adept at maintainign composure and using his 6'2″ frame to chip away at opponents from a distance. Perhaps the Fight For It stage will once again offer a favorable platform for the tenacious fighter out of Rogue Combat Club.
But to put another notch in the win column, Kratz will have to overcome Anthony Mingioni, who, since making his kickboxing debut at Fight For It XII, has gone on to amass a 4-2 record heading into this return to the promotion. 
Mingioni, who fights out of Konquer Thai Boxing in Greensboro, is also a well-rounded striker, and has proven to be particularly dangerous in the clinch. Kratz would do well to work at range if he hopes to claim victory here, as Mingioni will likely have the advantage in the pocket.
Both men arrive to the ring with strong experience and a dangerous striking arsenal. Victory will go to whichever proves most adept at controlling the distance and pace of the bout. If Kratz can control the outside, he could well find himself back in the win column. But if Mingioni can apply pressure and nullify the reach of Kratz, expect to see \his hand raised once again.
---
Fight For It XVI and The Fight For It Expo promise a full day of action on Saturday, Sept. 16 at The Benton Convention Center in Downtown Winston-Salem, NC. Catch every moment of MMA, kickboxing, and more — live in-person, or via pay-per-view, with tickets available now at fightforitcompany.com.
And be sure to download the Fight For It app on on The App Store or Google Play to pick your fantasy winners at Fight For It XIV. The pool is free to play and will award the top three scorers with their share of a $500 cash prize.