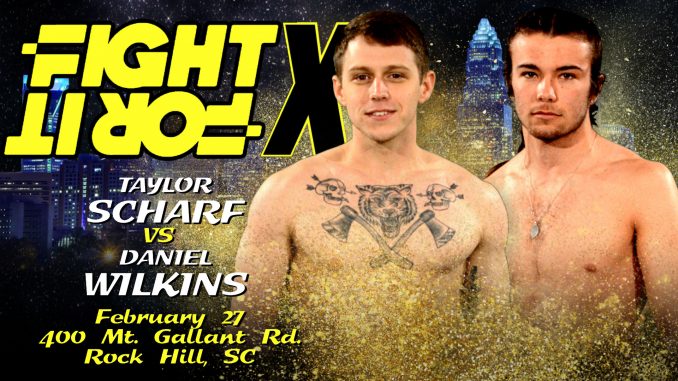 This was the MMA début for Taylor Scharf representing Fight Factory and Daniel Wilkins fighting for SAGA Combat Systems. Despite the combatants' relative inexperience, however, the fight quickly found a rhythm.
The bout began with Scharf opening up with strikes, only to have Wilkins close the distance and force a clinch. Scharf pulled guard to bring the fight to the ground, began striking from his back while setting up submission attacks from rubber guard. Wilkins, however, defends the assault, and the fight goes back to the feet.
The next engagement followed a similar pattern. Scharf attacked with a guillotine choke that sent both men back to the ground, and again, Wilkins brought he fight back to standing as he defended the ground attack. This theme of close the distance, clinch, and takedown would remain the narrative, though Scharf had the upper hand in round one.
At the start of round two, they went back to the script — but this time, with a slight twist. As Scharf took Wilkins down, he quickly found himself trapped inside of a triangle choke that he could not escape. With the submission victory, Daniel Wilkins picks up his first win in MMA.

Looking for more combat sports action? Download the Fight for It App to play Daily Fantasy for Combat Sports on iPhone or Android!