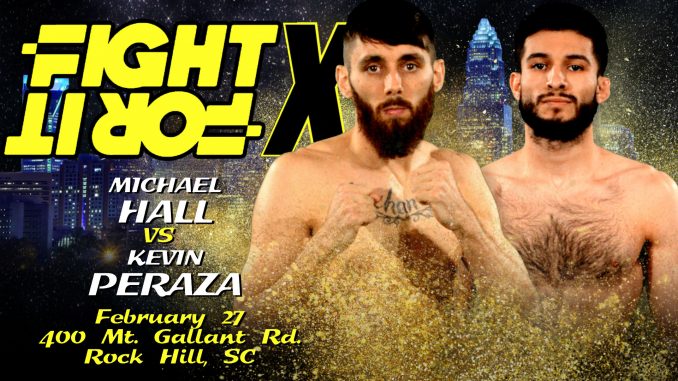 Looking to balance his 1-2 record, Kevin Peraza of Hayastan MMA agreed to battle the late replacement Michael Hall of New Millennium Fitness at Fight For It X. Hall, who entered the bout with advantages in both height and reach, is no stranger to the game. He entered the match at 2-1, looking to keep tilting the balance toward the winning side.
The opening round saw Peraza using footwork, angles and kicks to find his range and set the pace of the fight. But Hall showed a more patient approach, chipping at Peraza with a few kicks of his own. Near the two-minute mark, Peraza initiated a clinch, pinning both men to the cage, trading positions. Hall's attempted foot sweep backfired, landing him on the bottom and giving Peraza an edge on the scorecards.
In round two, Hall initiated the attack for the first 20 seconds, but Peraza found a leg and dragged him to the mat. From there, Peraza did what Hayastan does well, maintaining the top and firing off ground and pound until the round was over. Peraza spent two and a half minutes suffocating Hall's game giving him the edge in round two, as well.
The effect of that smothering top pressure was evident between rounds, when Peraza stayed on his feet early during the break while Hall looked fatigued on the stool. But, proving he had more left in the tank, Hall took charge in the opening minute of the third round and grabbed a guillotine choke. Peraza defended the attack, bringing the battle back to the mat, where Peraza maintains top pressure for the rest of the fight. With his dominant display on the ground, Peraza secured the decision win, balancing the books for both men at 2-2.
Looking for more combat sports action? Download the Fight for It App to play Daily Fantasy for Combat Sports on iPhone or Android!