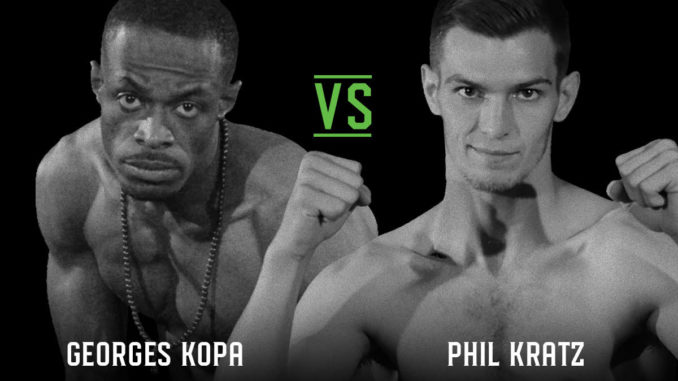 On paper, it's easy to assume an advantage for Georges Kopa. The veteran kickboxer and MMA fighter out of the Raleigh Institute of Martial Arts boasts an impressive 13-2 record in the kickboxing ring (and a 2-1 for MMA). Back at Fight For It IX in 2019, Kopa claimed the Fight For It championship from Josh Crouch, adding another title to his collection of Lightning Strikes and IKF belts.
Indeed, Kopa's quick, crisp combinations at range and his slick movement have made him a dominant force in the kickboxing world. But one shouldn't be too quick to count out Phil Kratz, whose steady improvement was immediately apparent in his unanimous decision victory over Sam Marler at Fight For It X. Commanding the bout both at range and in the clinch, Kratz proved not only to be ferocious — an expectation coming from Rogue Combat Club — but nimble and smart in his attacks.
Though Kratz's 4-6 record doesn't proclaim the depth of dominant experience Kopa's does, Kratz will have an edge in aggression and in reach. Where Kopa likes to throw quick combinations and move out of range, Kratz could stymie Kopa's offense with long kicks and the threat of a grueling clinch.
With a championship belt on the line, this match-up will be a guaranteed highlight of Fight For It XII.
---
Fight For It XII takes place on Dec. 18 in Gaffney, S.C. Purchase your tickets now at fightforitcompany.com.
Be sure to download the Fight For It app on on The App Store or Google Play to pick your fantasy winners at Fight For It XI. The pool is free to play and will award the top three scorers with their share of a $500 cash prize.