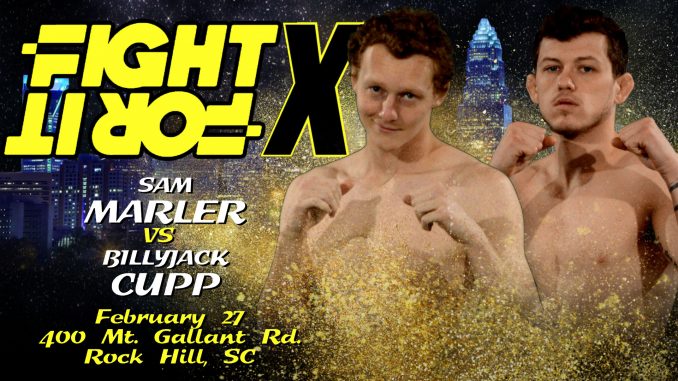 Sam Marler of TKO Fitness looked to build upon his undefeated kickboxing record against BillyJack Cupp at Fight For It X. But while it was Cupp's kickboxing debut, he is quite well-versed in the amateur MMA circuit, with 10 fights to his name leading to his kickboxing bout with Marler.
Fighting out of Charlotte Jiu Jitsu academy and Gym-O, Cupp is 7-3 in his MMA career and, with a strong performance at Fight For It X, can now claim a 1-0 record in amateur kickboxing, as well.
As the bout began, both guys seemed ready for a brawl, with Cupp throwing a spinning back kick at the opening bell and another to close out the round. Marler showed more restraint in his strikes, trying to piece together combos and feints, but Cupp — with his experience in MMA striking — didn't bite on any of them. Finding his range, Cupp began picking his shots and throwing one strike counters to Marler's tenacious advancements. To his credit, Marler continually marched forward, putting pressure on Cupp.
In the end, Cupp's combative experience definitely paid off. He looked calm and relaxed in his kickboxing debut, reserving his gas tank through all three rounds to fight intelligently, and secure the judges' unanimous decision. I am sure we will see him making his professional debut soon.
Looking for more combat sports action? Download the Fight for It App to play Daily Fantasy for Combat Sports on iPhone or Android!