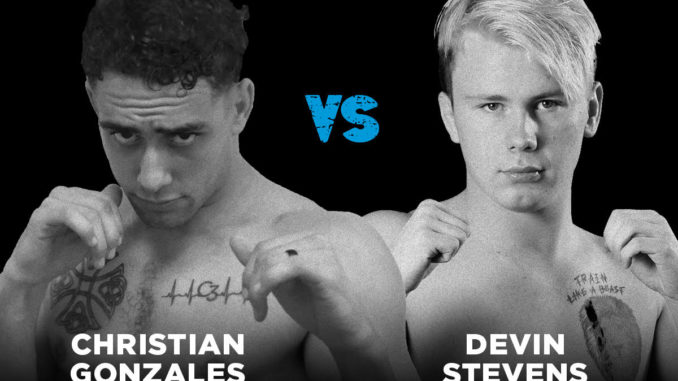 The official record is only part of the story. On paper, neither Christian "Gonzo" Gonzalez" (0-2) or Devin "Achilles" Stevens (0-1) showcase their talents or potential. At Fight For It XIII, both men look to change the narrative.
Fighting out of Elevate MMA, "Gonzo" has been active in competition across disciplines, taking on kickboxing and boxing matches to sharpen his striking skills. Likewise, Stevens, who fights out of Davidson County BJJ, has been a regular in grappling tournaments and superfights, as well as in "unofficial" MMA bouts.
There's a probable striker-versus-grappler match-up at work here, but the varied experiences both men bring to the cage show potential for surprises. But, given Gonzalez's advantage in height and reach, he'll do well to keep Stevens at range and avoid the takedown. On the mat, Stevens is a threat, especially from the guard where he's a slick and quick leg-locker.
If "Gonzo" keeps the fight standing, he may just find "Achilles"' heel, but if the bout goes to the ground, he'll need to earn points in top position while evading Stevens' heel-hooks and looking to re-set the fight on the feet.
For Stevens, the ground game is a comfort zone, and he'll do well to bring the fight to the mat, either by scoring a takedown, or baiting Gonzalez into scoring one for himself. If he can drag Gonzalez into his game, expect to see Stevens' hand raised.
Both men are hungry for a win, so expect to see both sticking to their strengths. It's a battle of wills, that will ultimately see one of these tenacious competitors get their first official notch in the win column.
---
Fight For It XIII goes down Saturday, April 9 at the Downtown Spartanburg Marriott in Spartanburg, SC. Purchase your tickets now at fightforitcompany.com.
Be sure to download the Fight For It app on on The App Store or Google Play to pick your fantasy winners at Fight For It XI. The pool is free to play and will award the top three scorers with their share of a $500 cash prize.