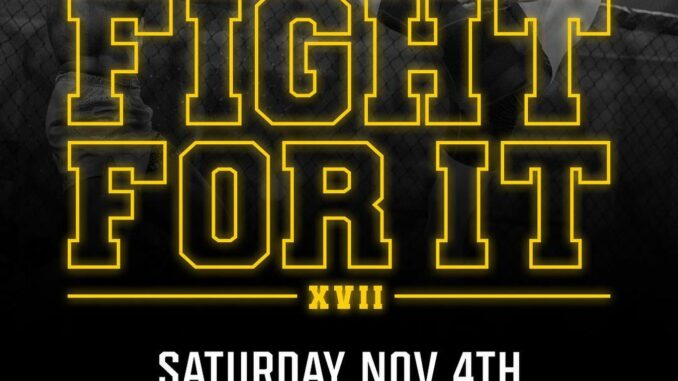 What made Ngannou vs. Fury a must-see sporting event? The excitement of witnessing a collision of world champions. Though Ngannou earned his strap in MMA and Fury from boxing, both are undisputed champions, and as such, both are endowed with something extraordinary. Their narratives unveil the challenges and journey toward the spotlight, with a champion's determination and resilience becoming intertwined with our own experiences, transforming into a source of empowerment that allows us to become the stars of our own movies.
On Nov. 4, at the Grady Cole Center in Charlotte, N.C., a diverse array of championship excellence will unfold during Fight For It XVII. Mason Taylor will defend his 80 lbs. kickboxing title, after recently claiming it on the same night his father, Ryan "Papa Bear" Taylor claimed a belt of his own. Brent Williams, a two-sport champion in the Fight For It Family, will defend his MMA title in front of a hometown crowd. Anthony Campbell and James Parks are unwavering in their pursuit of the amateur heavyweight kickboxing title.
Cody Reece is intensely focused on revealing to Dominic Stancil the essence of championship ambition. The Fight For It welterweight title is not just on the line; each man's self-determination and self-respect are also at stake.
Jake Valdes, who secured a promotional belt early in 2023 and is an Army Combatives Tournament Champion, will showcase his skills against Jahrael Cromartie.
In the main event, Shelton Sales and Josh Motsinger, both former Fight Lab Champions and familiar faces at the Grady Cole Center, will converge for one night, in one place, united by one cause — to inspire us through this captivating form of entertainment we know as "Fight For It."
---
Fight For It XVII brings a heavy slate of kickboxing and MMA action to Charlotte's Grady Cole Center on Saturday, Nov. 4. Catch every moment live or streaming via pay-per-view. Kickboxing prelims start at 3 p.m., and the MMA card ignites at 7 p.m. Tickets for the live event and pay-per-view stream are available now via fightforitcompany.com.
And be sure to download the Fight For It app on on The App Store or Google Play to pick your fantasy winners at Fight For It XIV. The pool is free to play and will award the top three scorers with their share of a $500 cash prize.