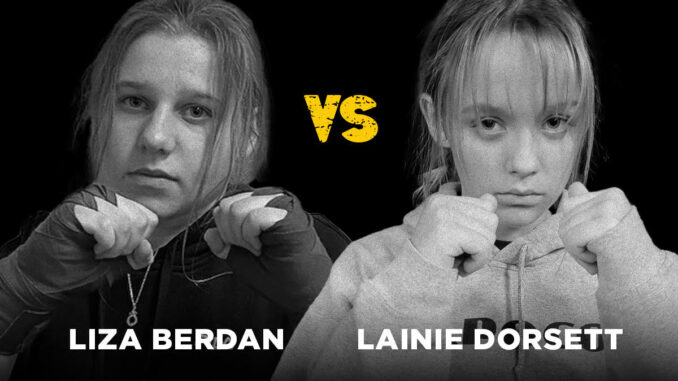 Longtime fans of Fight For It events will know it's always wise to show up early. Youth bouts set the tone for the evening, and more often that not, that tone is explosive and relentless. When 13-year-old kickboxers Liza Berdan and Lainie Dorset collide on Feb. 18, expect the bar to be set high for the rest of the card.
Both combatants arrive to Fight For It XIV as experienced amateur kickboxers. Berdan, a student at Ben Corpus' BC Kickboxing, can claim the advantage in experience as her PKB record stands at 2-1, but she'll need to adjust to striking for impact instead of points in the full-contact arena. That also suggests that Dorset's 0-1 full-contact record isn't the disadvantage it might seem on paper. Besides, Dorset's home gym, Eng Self Defense, has proven its ability to produce determined and energetic fighters.
Berdan might well prove to be the more technical kickboxer in this bout, but she'll need to keep her composure when Dorset lets her strikes go. Dorset, though, will need to keep her strikes crisp and work her defense to match technique with her opponent.
Whoever gets their hands raised, though, this bout should offer plenty of clips for the highlight reel.
---
Combat sports action returns to the Downtown Spartanburg Marriott in Spartanburg, SC when Fight For It XIV kicks off on Saturday, February 18. Catch every bout live in-person, or via pay-per-view, with tickets available now at fightforitcompany.com.
And be sure to download the Fight For It app on on The App Store or Google Play to pick your fantasy winners at Fight For It XIV. The pool is free to play and will award the top three scorers with their share of a $500 cash prize.