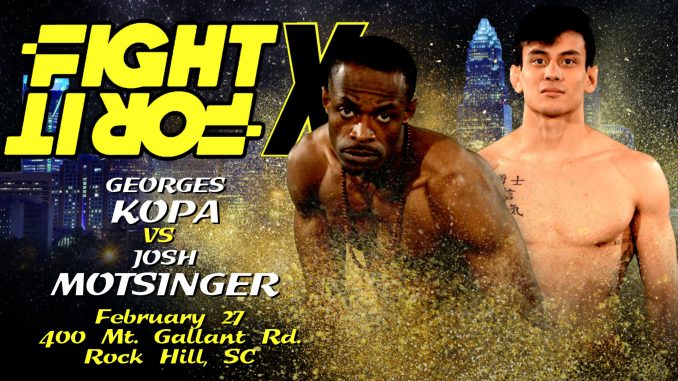 In a fast-paced fight full of highlight-reel techniques, the judges might have had the toughest challenge. Accomplished kickboxer and, at 2-0, undefeated MMA fighter Georges Kopa kept a fast pace on the feet, while Hayastan MMA's 2-1 Josh Motsinger proved he could stand with the kickboxer, even as he worked to drag the fight to the floor.
Kopa showed a calm, calculated striking style, with a steady jab and quick combinations that rarely left him overexposed. But Motsinger showed strength at kicking range, and was primed to capitalize any even the slightest of Kopa's overreaches. Despite Kopa's efficient and tenacious takedown defense and difficulty to pin, Motsinger succeeded in repeatedly taking down his opponent. On the ground, Motsinger had the offensive advantage as he was able to tie up Kopa for fits of ground and pound while Kopa worked to defend and stand up.
At the end of the bout, it could rightly have been called either way. Kopa showed his seasoned prowess on the feet, while Motsinger showed a willingness to stand up with a striker even while grinding for a grappling advantage. Ultimately, the judges' favor came on the side of Motsinger, who hands Kopa his first defeat while moving himself up to 3-1.
Looking for more combat sports action? Download the Fight for It App to play Daily Fantasy for Combat Sports on iPhone or Android!