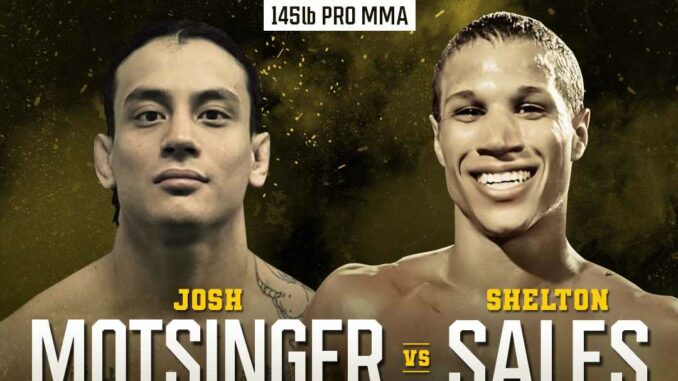 When Josh Motsinger and Shelton Sales make the walk to the cage at Fight For It XVII, they'll be setting off an intriguing main event that hinges on key variables in experience, recent activity, and changing weight classes.
Sales has been away from professional cage fighting for four years, while Motsinger made his professional debut earlier this year, at Fight For It XV. But while he's been absent from the cage, Sales has kept himself in competition mode by competing in grappling matches and stays active by coaching his team, Combat Athletics.
Not only is Sales an accomplished wrestler, he will also enter the cage for the first time as a black belt in Brazilian Jiu-Jitsu. Sales is also much more aggressive than Motsinger, which is evident in his forward pressure style and finishing rate. Motsinger has shown that he has the skill to nullify Sales' wrestling, but he can also tend to be too defensive while waiting to figure out his opponent. While this strategy has worked for him in the past, he will need to be on guard in round one and quite possibly the first two minutes of round two.
For this fight, Motsinger will be cutting back to at 145 lbs., but he hasn't fought as a featherweight for six years. This more aggressive weight cut could either give him improved speed or sap him of the physical strength he has enjoyed in recent fights. Further, because this is Sales' normal weight class, it will likely help level out the perceived disadvantage that comes with his inactivity in competition.
As these two martial artists' styles pitted against each other are likely to neutralize wrestling and grappling exchanges, look for Sales to press the action and test Motsinger in the striking range. To counter Shelton's pressure, Motsinger will look to cut angles and counter-strike as he hunts for opportunities to attack with elbows and knees against the cage.
This is truly a tale of two fights. Knowing that he has faced better competition in the cage, expect Sales to test Motsinger's ability to weather the storm. The first half of the fight will belong to Sales, with a probability of some type of finish. If Motsinger survives the early rounds, though, the second half of the fight will likely see him masterfully shut down the offense and claim his second professional victory by unanimous decision.
---
Fight For It XVII brings a heavy slate of kickboxing and MMA action to Charlotte's Grady Cole Center on Saturday, Nov. 4. Catch every moment live or streaming via pay-per-view. Kickboxing prelims start at 3 p.m., and the MMA card ignites at 7 p.m. Tickets for the live event and pay-per-view stream are available now via fightforitcompany.com.
And be sure to download the Fight For It app on on The App Store or Google Play to pick your fantasy winners at Fight For It XIV. The pool is free to play and will award the top three scorers with their share of a $500 cash prize.