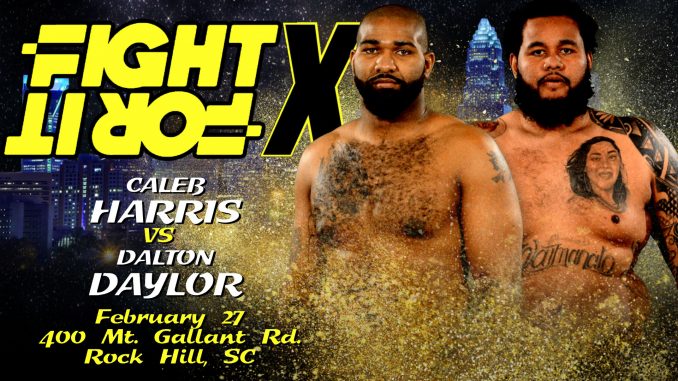 Heavyweights Caleb "The Punisher" Harris and Dalton "Too Strong" Taylor came ready to put an exclamation mark on the main event of the evening. Harris, a two-time champion in other promotions, fighting out of Matrix MMA, wanted to add another belt to his collection and re-tilt his 6-6 record. But the stakes were just as high for the 3-0 Taylor, of Embrace Martial Arts, who sought to earn his first title while keeping his undefeated streak.
Taylor stumbled getting into the cage, and unfortunately never seemed to regain his footing from there. Taylor dropped a large amount of weight for the bout, perhaps explaining why Harris seemed to be the quicker on the feet.
As Taylor showed strong defensive head movement, Harris put out a multitude of low kicks to set up the punches that had Taylor's back to the cage quite a few times. Going into the third round, both men were throwing heavy leather, with Harris's punches more frequently slipping through Taylor's guard. Near the end of the round, Harris secured a snatch single to land a takedown, from which he passed from half guard to full mount and rained down strikes before trying, unsuccessfully, to lock up an Americana at the buzzer.
But despite his struggles in the early rounds, Taylor looked sharp coming into the fourth. Throwing heavier and with more volume, he started to build back some momentum until an unintentional eye-poke to Harris caused a pause in the action. The fight resumed soon after, only for Taylor receive a nasty eye-poke of his own. Unfortunately, it was this foul that ended the bout in quite an anticlimactic manner.
As the fight had progressed into the championship rounds, the judges are compelled to score the fight based on the prior three rounds only, rather than ruling it a "No Contest." Based on that, the championship belt was awarded unanimously to Harris. It's impossible to say what might have happened had the fight not ended so abruptly. We can only look forward to a rematch.
Looking for more combat sports action? Download the Fight for It App to play Daily Fantasy for Combat Sports on iPhone or Android!