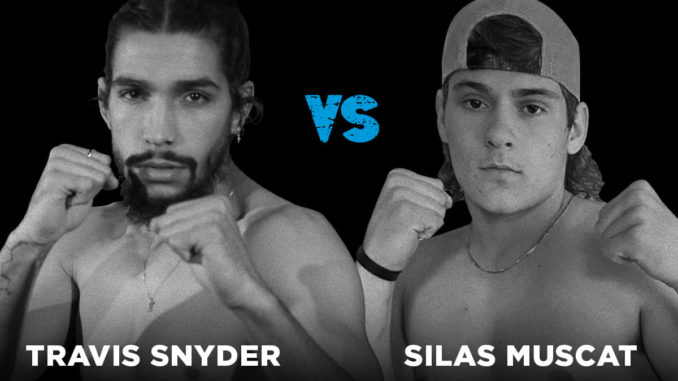 Two of the Carolinas' best gyms will showcase two of their most promising prospects when Travis "T-Flex" Snyder and Silas Muscat throw leather at Fight For It XIII.
At the incredibly young age of just 19, the Gym-O trained Muscat is already battle tested, and battle proven. Undefeated and officially 2-0 after an ultra slick armbar netted him the win against Patrick Schaffer at Fight for It XII in December, Muscat has shown a fantastic understanding of the grappling arts. Proving his mettle with cage wrestling, chain takedowns, inside trips and submission ability in his first two outings, he'll be looking to use those tools to maintain his winning ways.
But that's no easy ask when the man across the mat from you is Modern Warrior's "T-Flex." Snyder made his MMA debut against Tenarious Dooley at Fight For It XI in October of last year, and utterly dominated the contest. Snyder looked like a complete mixed martial artist with skills on the feet and on the ground, from the first bell until just 34 seconds into the second round of his fight with Dooley, when "T-Flex" picked up his first win via rear naked choke.
Modern Warrior's corner is one of the few in the Carolina's that is as impressive as Gym-O's. The Keith Rockstar Richardson helmed team has produced not just fight for it talent like Tad Collins and Snyder, but talent on the world stage such as Taylor "Killabee" Starling and Richardson himself. Both Snyder and Muscat are among the very best young prospects in Carolinas MMA right now and it's sure to be fireworks when they make the walk on April 9.
Snyder certainly seems to have an advantage on the feet, and if he can keep the fight standing Muscat may struggle to force the kind of wrestling exchanges he's been so successful with against his previous opponents. Snyder is also a much taller and longer fighter than Muscat has faced so far, as well as the most athletic. But if history has shown us anything it's that wrestling and Jiu-Jitsu can be the great equalizer for the slightly smaller Muscat. However it goes, neither man can remain undefeated when these two clash at Fight For It XIII.
---
Fight For It XIII goes down Saturday, April 9 at the Downtown Spartanburg Marriott in Spartanburg, SC. Purchase your tickets now at fightforitcompany.com.
Be sure to download the Fight For It app on on The App Store or Google Play to pick your fantasy winners at Fight For It XI. The pool is free to play and will award the top three scorers with their share of a $500 cash prize.