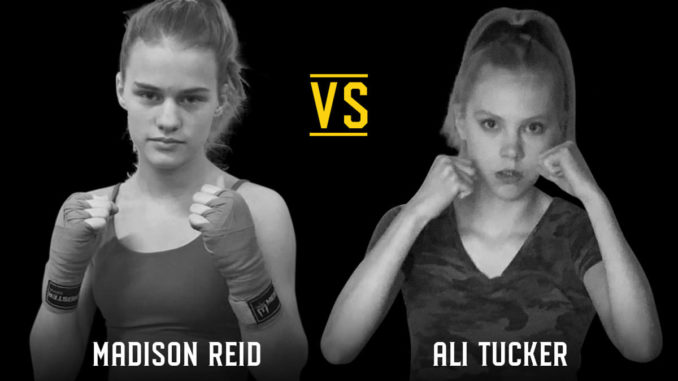 The youngest fighters on the Fight For It X card — debut kickboxers Ali Tucker (14) and Madison Reid (13) — promise lighting in the ring.

Tucker is no novice in the world of training. At Electric City Martial Arts, she trains under elite level coaches. The Muay Thai program is a Sit Quant Tong affiliate headed by world renowned referee Blake Grice, and, to complement her striking, Tuckeralso trains BJJ under Alex Ninan, a Rafael Rosendo Dos Santos black belt. Due to her years of well rounded training, Tucker is demonstrably excited for this fight. She promises sparks and is looking forward to being able to knock out her opponent in the very first round. 

But Reid has never been one to shy away from a challenge, either. In October, she displayed her Muay Thai shin conditioning by kicking down a banana tree. Her academy, Lake Norman Muay Thai, is helmed by former professional fighter Kru J.T. Smith, whose experience in the world of competitive kickboxing ought to help her entry into the ring.

For such young ladies, both fighters are more than prepared to make their debuts in a flurry of fireworks, and it would be a travesty to not be front and center to watch them display their prowess.
---
Be sure to download the Fight For It app on on The App Store or Google Play to pick your fantasy winners at Fight For It X. The pool is free to play and will award the top three scorers with Fight for It merchandise prize packs.