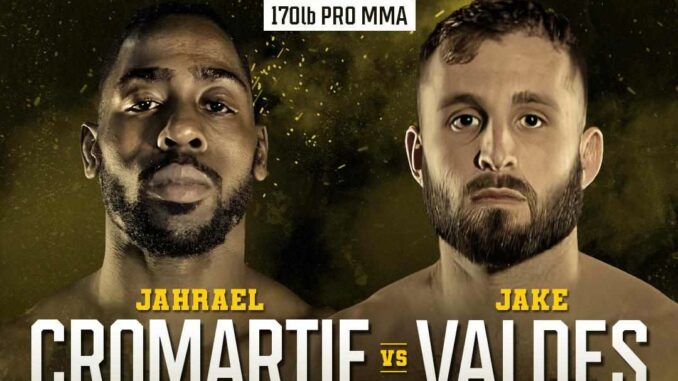 Jake Valdes has amassed an impressive amateur record ahead of this, his professional debut. In a 4-1 amateur record, Valdes earned an Army Combatives Tournament Championship, an amateur title, and notched victories in kickboxing and boxing along the way. As he steps into the cage across from Jahrael Cromartie, the Team Roc prospect Valdes will be looking to carry the momentum of a successful amateur career with him.
Cromartie boasts an impressive amateur record of his own, made more notable by the fact that all three of his victories have come by stoppage — two submission wins and a knockout. After earning his 3-3 amateur record, Cromartie made the jump to the pros earlier this year, with a bout at Next Level Fight Club 15, which ended in a No Contest ruling. Looking to put a punctuation mark on his nascent pro record, look for Cromartie to arrive extra hungry for a win at Fight For It XVII.
But as Valdes makes the jump into the professional realm, he'll be just as eager to score a win, and put his striking skills to the test against Cromartie who, for all his success, has also fallen to strikes in the past. Both men have proven themselves to be well-rounded threats in all dimensions of the game, but Valdes' striking acumen could be the deciding factor if Cromartie can't take control of the range.
However it plays out, these two rising pros will be looking to prove themselves on Nov. 4, ensuring an exciting battle.
---
Fight For It XVII brings a heavy slate of kickboxing and MMA action to Charlotte's Grady Cole Center on Saturday, Nov. 4. Catch every moment live or streaming via pay-per-view. Kickboxing prelims start at 3 p.m., and the MMA card ignites at 7 p.m. Tickets for the live event and pay-per-view stream are available now via fightforitcompany.com.
And be sure to download the Fight For It app on on The App Store or Google Play to pick your fantasy winners at Fight For It XIV. The pool is free to play and will award the top three scorers with their share of a $500 cash prize.