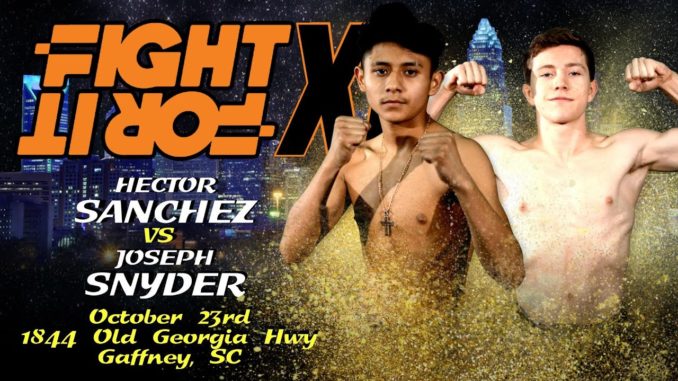 If you didn't know better, you might reasonably guess that the bout between Hector "Loco" Sanchez and Joseph "Mini Money" Snyder had brought the Fight For It XI card into the adult kickboxing competition. Such was the technical maturity displayed by both Sanchez and Snyder.
Snyder, who trains out of Art of Movement, entered the bout at 0-1, looking to balance the record, and set to work quickly working to get inside the Embrace Martial Arts prospect Sanchez's longer reach. Snyder's sharp angles and dynamic head movement proved elusive, but Sanchez still managed to find a home for his cross and check hooks through the first round. In the second, it seemed Snyder had started figuring out Sanchez's rhythms, but Sanchez kept his range, working long kicks and crisp punch combinations while Snyder ducked and pivoted to find his angles.
In round three, however, Sanchez sealed the deal, with a steady supply of accurate punches keeping Snyder at the end of his reach. While both young men showed technical skills and smart pacing throughout the bout, when the final bell was struck, the judges awarded the victory to Sanchez.
Looking for more combat sports action? Download the Fight for It App to play Daily Fantasy for Combat Sports on iPhone or Android!