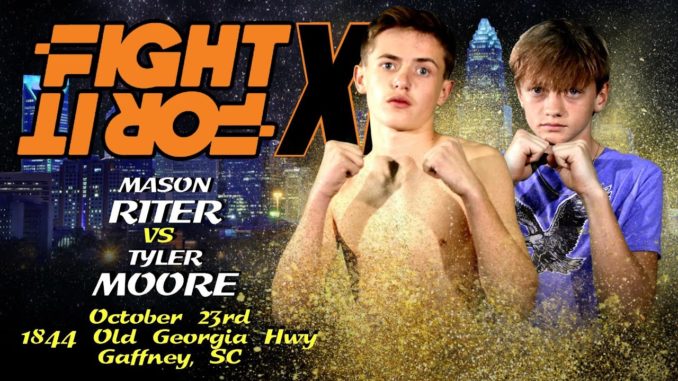 Mason Riter of Lake Norman Muay Thai and Tyler Moore of Eng School of Self Defense ended the youth kickboxing card at Fight For It XI with an exclamation point.
Riter, who had a noticeable reach advantage, kept a tight guard, cutting the cage and pressing forward into Moore's space with strong, long kicks to the legs and body and sharp, if short, punch combinations. His steady pacing and strong stance showed discipline in his technique, which gave him a boost in the early rounds as he picked at Moore's looser defense.
But Moore made it a brawl. From the start of the first round, Moore rushed in with a flurry of punches, and as the fight wore on, his blitzkrieg approach wore on Riter's stamina. In the second and third rounds, Moore found home for several spinning back fists and leaping kicks, but had his most consistent success guarding with a stiff lead hand to set up heavy crosses. The stiff arm gave him an entry to Riter's guard and several times opened the door for big straight punches.
Ultimately, the judges declared the bout a split decision victory for Riter.
Looking for more combat sports action? Download the Fight for It App to play Daily Fantasy for Combat Sports on iPhone or Android!