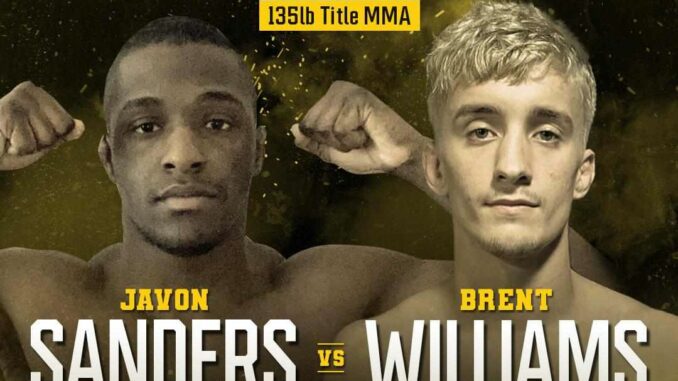 In only his second trip into the Fight For It arena, rising MMA prospect Javon Sanders will battle Brent Williams for the coveted Bantamweight title. The question looms: Is this a case of "too much too soon" for Sanders? Or does it better serve to underscore the unwavering belief and support he enjoys from his team at Durham, N.C.'s Elevate MMA?
Alternatively, could we be witnessing another stroke of matchmaking brilliance from Marcelo Rodriguez?
Brent Williams is no stranger to the Fight For It cage, and brings a wealth of experience to this title clash. With the added advantage of performing in front of his hometown crowd, Williams is poised to make a resounding statement. Armed with size and range, he poses a significant challenge for Sanders. However, his key to success lies not just in physical attributes but in a strategic fusion of boxing, kickboxing, and transitional MMA skills. Williams must dominate every facet of the fight to prevent Sanders from finding his emotional equilibrium.
Sanders, often hailed as a physical juggernaut, must live up to this reputation. His training regimen becomes pivotal, focusing on explosiveness sustained over five demanding rounds. To secure victory, Sanders needs to dictate the pace, utilizing his shorter stature to work his way inside. His striking attacks will be crucial to set Williams off-balance and create opportunities for takedowns and grappling maneuvers.
Beyond mental fortitude and physical prowess, this engagement delves into the realm of personality. The ultimate question: who wants to win more? Who hungrily pursues the title? Most importantly, who aspires to be the champion etched in the hearts of Fight For It fans?
The early rounds may see Williams pushing the pace, but if Sanders weathers the storm, expect a shift in momentum as he turns up the intensity in later rounds. While the champ holds the advantage, it's contingent on him staying a step ahead of his determined challenger.
---
Fight For It XVII brings a heavy slate of kickboxing and MMA action to Charlotte's Grady Cole Center on Saturday, Nov. 4. Catch every moment live or streaming via pay-per-view. Kickboxing prelims start at 3 p.m., and the MMA card ignites at 7 p.m. Tickets for the live event and pay-per-view stream are available now via fightforitcompany.com.
And be sure to download the Fight For It app on on The App Store or Google Play to pick your fantasy winners at Fight For It XIV. The pool is free to play and will award the top three scorers with their share of a $500 cash prize.