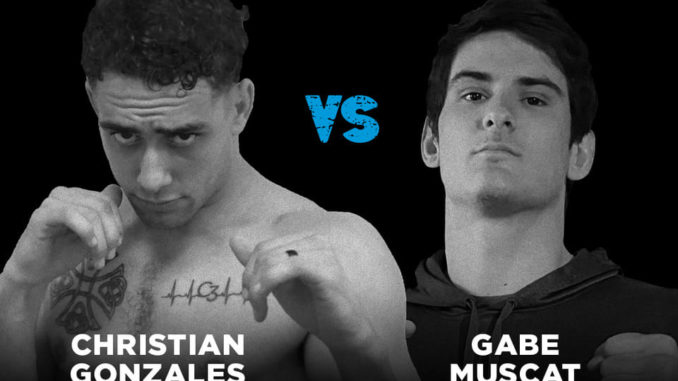 Devin Stevens has withdrawn from the scheduled MMA bout against Christian Gonzalez. Gabe Muscat has stepped up to challenge Gonzalez.
Gym-O's 1-2 Gabe Muscat accepted the challenge of fighting Christian "Gonzo" Gonzalez" (0-2) on late notice, but what he lacks in preparation, he might more than make up for in momentum. With two fights under his belt already in 2022, Muscat will walk into the Fight For It cage riding high on his March victory over Malique Lee at upstate Fight Night. Ending that bout with a first-round rear-naked choke, Muscat turned the tide on his MMA record, and will look to keep the streak alive on April 9.
Fighting out of Elevate MMA, "Gonzo" has been active in competition across disciplines, taking on kickboxing and boxing matches to sharpen his striking skills. Clearly, he's hungry for a taste of victory. Having the benefit of a full camp, as well as a strong striking arsenal at his disposal, Gonzalez should pose a significant challenge to Muscat.
And, Muscat has been stopped with strikes before, in his debut fight against Trevor Loken in 2021. "Gonzo" could well succeed by keeping the fight on the feet, but with less time to prepare for Muscat's specific strengths (after training for Stevens' specialized ground game), the momentum could easily shift in either direction.
"Gonzo" has the edge here due to having a more focused and full-length training camp, but Muscat's recent activity and winning momentum will likely give him a boost of his own.
---
Fight For It XIII goes down Saturday, April 9 at the Downtown Spartanburg Marriott in Spartanburg, SC. Purchase your tickets now at fightforitcompany.com.
Be sure to download the Fight For It app on on The App Store or Google Play to pick your fantasy winners at Fight For It XI. The pool is free to play and will award the top three scorers with their share of a $500 cash prize.