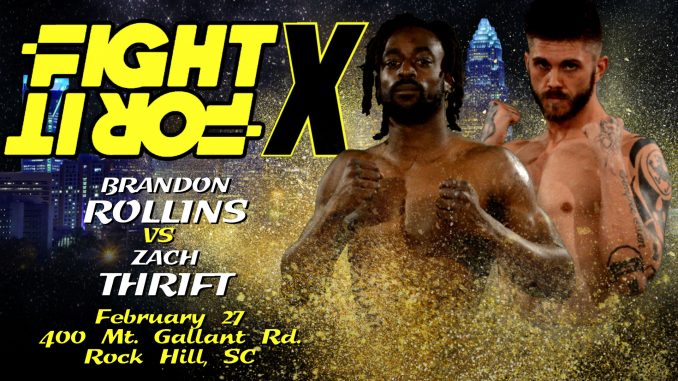 When Zach Thrift's championship MMA bout fell through four days away from Fight For It X, Brandon Rollins was ready to answer the call. Switching the contest to kickboxing rules didn't faze Thrift, either, who agreed to the last-minute bout after focusing his camp on MMA.
And once the first bell rang, it didn't take long for each man to show his style. Thrift opened with early flurries, chasing down Rollins under a hail of punches. But Rollins kept his composure and regained his footing in the center of the cage, finding his off-kilter rhythm with short combinations and lots of movement.
As Thrift aimed to make a brawl out of the bout, with big shots and constant forward pressure, Rollins proved elusive at range. But in the clinch, it would turn out, he was even more dangerous. Breaking away from Thrift, Rollins launched a heavy knee to the liver, which downed Thrift for the count.
With a first-round finish on four days' notice, Rollins moves to 6-2, while Thrift's kickboxing record slides to 2-2.
Looking for more combat sports action? Download the Fight for It App to play Daily Fantasy for Combat Sports on iPhone or Android!