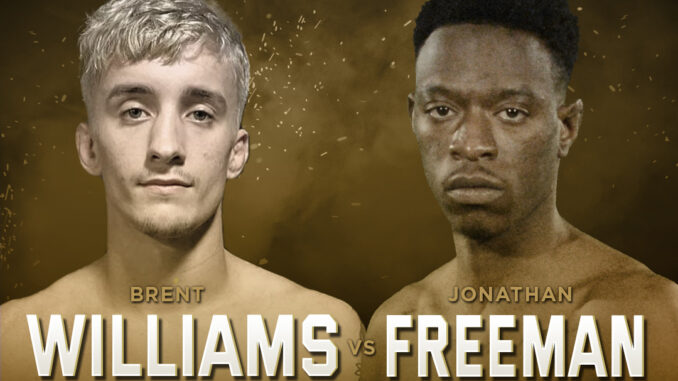 In the heart of Winston-Salem, North Carolina, the MMA scene is abuzz with anticipation as Fight For It XVI approaches. And it's a clash of champions generating the most volume.
Two warriors with contrasting styles and intriguing stories — Jonathan Freeman and Brent Williams — are gearing up for an unforgettable showdown as they strive to claim the Bantamweight MMA Championship.
Freeman radiates excitement with an air of self-assuredness about his impending battle. In a recent interview, Freeman promised a "fight of the night" vibe, hinting at his eagerness to deliver an electrifying performance for the fans. This confidence is not unfounded, given his remarkable journey to the championship throne.
A "freestyle" fighter at heart, Freeman is known for his versatility and willingness to adapt to any fighting style. Freeman holds a win over Williams early in their careers and believes the magic will be there to repeat that performance. Training out of Matrix MMA, he was a part of an impressive team that went 4-0 in their last campaign at Fight For It XV in July.
On the opposite side of the cage stands Brent Williams, a fighter whose evolution has been nothing short of spectacular. Williams is acutely aware of the significance of this fight, which he initially viewed as a potential revenge match. However, he has refocused his mindset on the ultimate goal: securing the championship belt, regardless of the opponent.
Williams exudes self-confidence, boldly proclaiming himself "the best." He acknowledges his opponent's improvement in Brazilian Jiu-Jitsu, but he remains steadfast in his belief that his fighting style is superior. Williams' well-rounded approach to fighting, encompassing both striking and grappling, makes him a formidable adversary.
As the fight date approaches, the matchup between Freeman and Williams promises to be a clash of styles and aspirations. Freeman, with his freestyle approach, brings a blend of striking and adaptability to the cage. On the other hand, Williams' tactical evolution, particularly in BJJ, poses a unique challenge for his opponents.
Both fighters have been diligently preparing for this championship encounter. Freeman has honed his wrestling skills, focusing on takedown defense, while Williams continues to sharpen his striking and grappling prowess.
As the fighters enter the final stages of their training camps, the excitement is palpable. Fight For It XVI is set to deliver an unforgettable night of action, with Freeman vs. Williams at the heart of it all. The stage is set, the stakes are high, and on Sept. 16, the MMA world will witness a clash of champions that promises to be nothing short of epic.
---
Fight For It XVI and The Fight For It Expo promise a full day of action on Saturday, Sept. 16 at The Benton Convention Center in Downtown Winston-Salem, NC. Catch every moment of MMA, kickboxing, and more — live in-person, or via pay-per-view, with tickets available now at fightforitcompany.com.
And be sure to download the Fight For It app on on The App Store or Google Play to pick your fantasy winners at Fight For It XIV. The pool is free to play and will award the top three scorers with their share of a $500 cash prize.