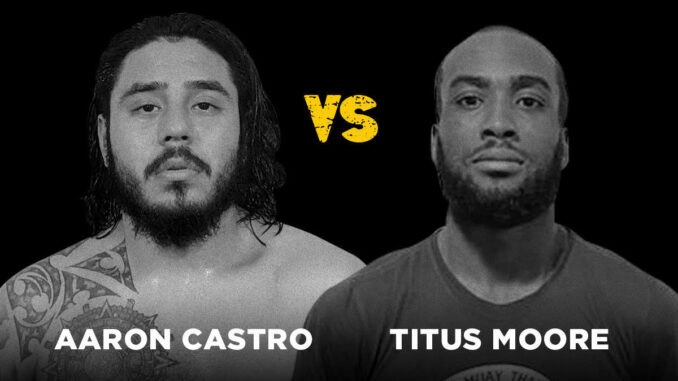 The rematch between Aaron Castro and Levi Whitlow will have to wait. After Whitlow withdrew from Fight For It XIV, his Gym-O teammate, and 0-1 pro Titus Moore stepped up to welcome Castro to the professional ranks.
Moore is entering this contest as a last-minute replacement, and looking to avenge the third-round stoppage he suffered against Andrew Sturdivant in November of 2022. He'll face stiff opposition from Castro, a man who our own commentator Ses Stevenson dubbed, "quite possibly North Carolina's best boxer in MMA." Castro's outing at Fight For It XIII ended in a draw against fellow striking specialist "Prince" Ahmed Khamis. But with two of his three amateur victories arriving via stoppage, Castro has more than proven his ability to drop the hammer on opponents who underestimate his striking ability.
Moore has the upper hand in experience, and has the motivation to turn around his professional record. But Castro looks eager to get his own career off to a strong start. When these two clash on Feb. 18, an explosive bout is all but guaranteed.
---
Combat sports action returns to the Downtown Spartanburg Marriott in Spartanburg, SC when Fight For It XIV kicks off on Saturday, February 18. Catch every bout live in-person, or via pay-per-view, with tickets available now at fightforitcompany.com.
And be sure to download the Fight For It app on on The App Store or Google Play to pick your fantasy winners at Fight For It XIV. The pool is free to play and will award the top three scorers with their share of a $500 cash prize.