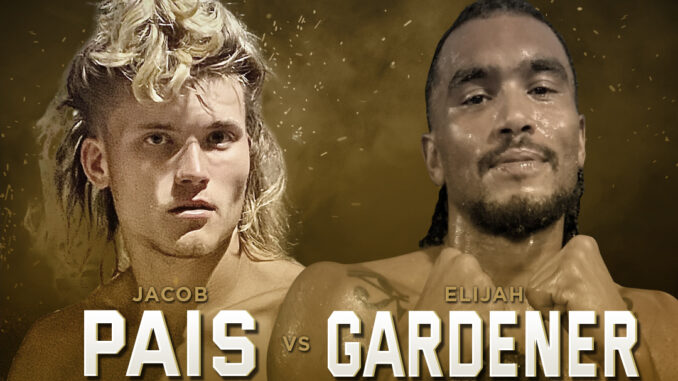 Anticipation often simmers in the buildup to a showdown, and the clash between Elijah Gardener and Jacob "El Tortuga" Pais earns the excitement. With their contrasting backgrounds, motivations, and fighting styles, this matchup promises to be a thrilling contest that could leave a lasting impact in the world of MMA.
And these two haven't waited for the bell to begin trading blows. Fiery exchanges on the internet have only fueled the competition.
Ahead of the bout, Gardener exudes confidence and determination. Apparently unfazed by the pressure that often accompanies headline fights, he's placed immense trust in his coaches and the knowledge they've imparted over the years. Accompanying his disciplined approach to the sport, Gardener draws motivation from his wife and two children. Having moved to North Carolina to train with the team at Battle Born BJJ and MMA, Gardener has proven his unwavering commitment to improvement and his determination to provide a better future for his loved ones. Now he'll look to use that belief in himself and his preparation to prove any doubters wrong.
On the other side of the cage, Jacob Pais doesn't isn't hesitating to challenge Gardener's confidence. He describes his confident, aggressive fighting style as "reckless," and is ready to capitalize on any mistakes his opponent might make. While the verbal exchanges between the two fighters suggest a heated rivalry, Pais maintains a sense of humor, revealing a calm demeanor even amidst the banter.
As the fight approaches, it's evident that both Gardner and Pais are determined to seize the opportunity before them. The clash of styles, with Gardner's composed and disciplined approach contrasting Pais's aggressive and confident demeanor, promises an intriguing battle inside the cage.
---
Fight For It XVI and The Fight For It Expo promise a full day of action on Saturday, Sept. 16 at The Benton Convention Center in Downtown Winston-Salem, NC. Catch every moment of MMA, kickboxing, and more — live in-person, or via pay-per-view, with tickets available now at fightforitcompany.com.
And be sure to download the Fight For It app on on The App Store or Google Play to pick your fantasy winners at Fight For It XIV. The pool is free to play and will award the top three scorers with their share of a $500 cash prize.