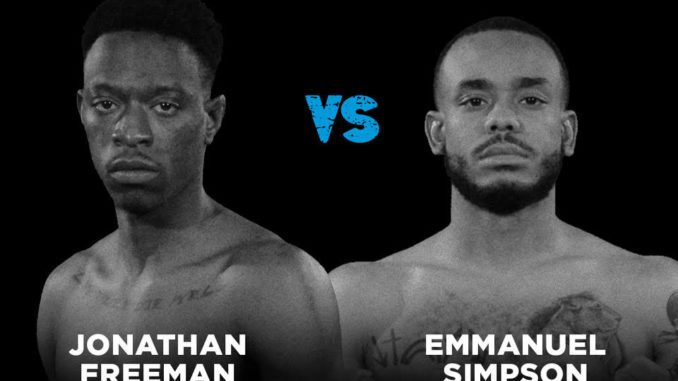 Expect and action-packed scrap at Fight For It XIII when "The Butterfly" Jonathan Freeman takes on Hayastan MMA's Emmanuel Simpson.
Freeman made a strong debut in MMA by finishing Brent Williams, but since then, he has not tasted victory in a sanctioned bout. Still, "The Butterfly" has certainly been active. He's picked up wins in boxing and Muay Thai contests, and had several successful appearances on the popular YouTube fight series Street Beefs. He's looking to take everything he's learned on this pilgrimage of combat back into the MMA realm when he returns to the Fight for It cage to take on Simpson.
Simpson, now officially 2-2 after his loss to Aaron Muro at Fight for It XII, is looking to bounce back in a big way against "The Butterfly." Since Simpson first debuted as an amateur in 2019 at Fight For It IX, he has proven himself a true Hayastan-style fighter, favoring the elaborate yet deviously simple grappling setups pioneered by Gokor Chivichyan and implemented, without fail, by coaches Ziegler, Forant, and Tan onto every Hayastan fighter they send into the MMA scene. Simpson is also a confident striker, but that confidence has gotten him into trouble in his last two outings, as brawls with previous opponents saw him falling short in otherwise competitive fights.
I suspect we'll see a more systematic approach to this bout from the Hayastan fighter, similar to the approach Bryan Battle displayed in his fight against Tresean Gore in the UFC. It's clear the Hayastan camp has a heavy focus on in fight strategy and IQ. Freeman is more of a pure striker who utilizes his long frame well behind an educated jab, but his stance and his tendency to step backwards will leave him vulnerable to the takedown. Freeman may be pressured to push for an early finish if the wrestling is a concern, so look for sparks to fly early when these two go head to head next weekend at Fight For It XIII
---
Fight For It XIII goes down Saturday, April 9 at the Downtown Spartanburg Marriott in Spartanburg, SC. Purchase your tickets now at fightforitcompany.com.
Be sure to download the Fight For It app on on The App Store or Google Play to pick your fantasy winners at Fight For It XI. The pool is free to play and will award the top three scorers with their share of a $500 cash prize.