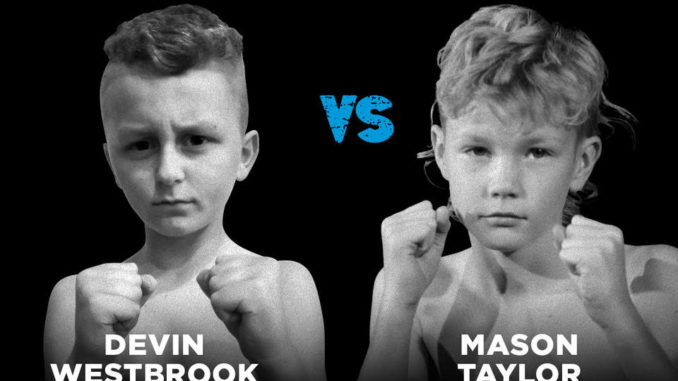 Mason Taylor trains at Lake Norman Muay Thai under the coaching team of Kru JT and Matt Rider. Walking into the ring with a 1-0 record already, after only two and a half years of training, Taylor is on his way to achieving his goal of becoming a professional fighter when he gets older. At Fight For It XI, Taylor proved his mettle with a barrage of strikes that earned him a first-round victory in his debut.
While his preparation for this fight has been limited by the start of baseball season, Taylor has most certainly been in the gym sharpening his skills and running to keep his stamina.
His father, Ryan Taylor, also competing at Fight For It XIII, says his son is a cross between the Energizer Bunny and the Tasmanian Devil. "He just goes and goes." Neither father nor son knows a lot about their opponents, however, they look forward to meeting them and making memories.
Devin Westbrook promises a strong challenge for Taylor.
Having studied martial arts for nearly five years, he has competed in sport karate sparring divisions under many promotions across the East Coast. Fighting out of Saeng Jeon Do Martial Arts, his coaches are Professor/Kru Mike Bentley and Kyoshi Anthony Stafford. "My teammates Landon Bush and Quan Chavez have also helped in my training and my journey into kickboxing," Westbrook says.
Approaching the bout at Fight For It XIII, Westbrook is confident. In addition to Karate and Kickboxing, Devin has played football and wrestled. When he is not training, he plays Fortnite, hangs with friends, and gives love to his puppy named Onyx.
---
Fight For It XIII goes down Saturday, April 9 at the Downtown Spartanburg Marriott in Spartanburg, SC. Purchase your tickets now at fightforitcompany.com.
Be sure to download the Fight For It app on on The App Store or Google Play to pick your fantasy winners at Fight For It XI. The pool is free to play and will award the top three scorers with their share of a $500 cash prize.