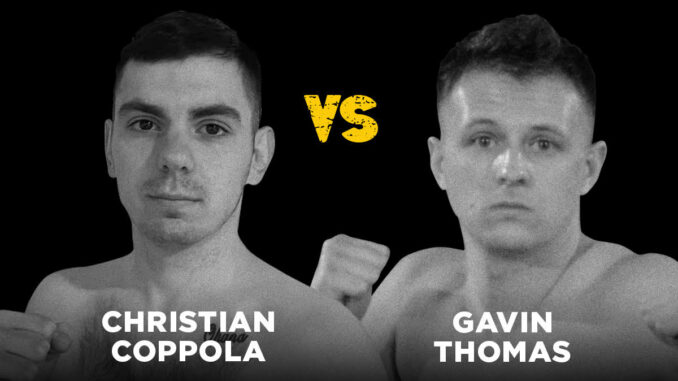 When Christian Coppola and Gavin Thomas collide at Fight For It XIV, expect nothing short of an adrenaline-fueled showdown between two of the Carolinas' top featherweights! Going to battle for the amateur MMA title, these two warriors are about to unleash a storm.
Thomas is a force to be reckoned with, coming off a hard-fought win over Joshua Cook and going the distance with the powerhouse Tenarious Dooley at Fight For it X. With his toughness and the ability to unleash his fists, Thomas is a credible threat and a true challenge to the featherweight title.
Coppola, on the other hand, is a grappling specialist with a strong background in wrestling and jiu-jitsu. But due to an injury Coppola has suffered a recent absence from the cage. Before he got hurt, Coppola was preparing to battle for a title against Jacob Ashley, a two-time amateur champion and top-notch jiu-jitsu player. Now, he'll look to make up for lost time. With an undefeated record and the mindset to step up to the biggest challenges, Coppola is ready to seize the crown and become the new 145 lbs. kingpin.
Who will the fight gods favor in this explosive featherweight matchup? There's only one way to find out, and that's to be there for all of the action at Fight For It XIV!
---
Combat sports action returns to the Downtown Spartanburg Marriott in Spartanburg, SC when Fight For It XIV kicks off on Saturday, February 18. Catch every bout live in-person, or via pay-per-view, with tickets available now at fightforitcompany.com.
And be sure to download the Fight For It app on on The App Store or Google Play to pick your fantasy winners at Fight For It XIV. The pool is free to play and will award the top three scorers with their share of a $500 cash prize.