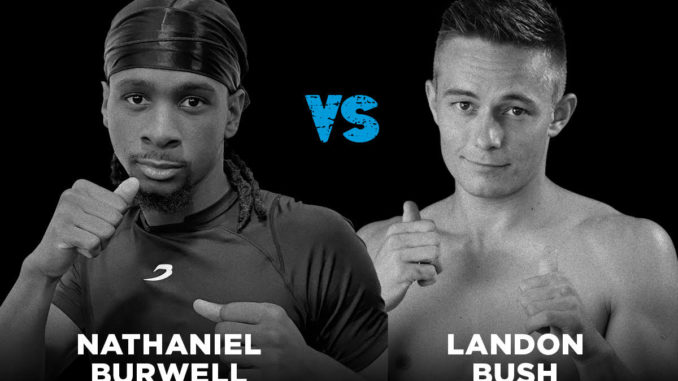 In his debut at Fight For It XII, Nathaniel "The Butcher" Burwell made a strong showing against the significantly more experienced Tee Yang. Though Yang walked out with the win, his victory came by way of a decision made mostly in the first two rounds, where Yang landed heavy shots on Burwell and pushed the pace of the fight. It was round three where Burwell found his rhythm, shook off the damage from earlier rounds and started finding a home for sharp knees to the body that wore down Yang's resolve and left him open for heavy punches in the later moments.
Burwell's tenacity and late-round comeback wasn't enough to outweigh yang's dominant showing in the first rounds, but it did prove that Burwell has what it takes to go the distance and threaten an opponent late into the fight. He'll have to keep that same grit and determination against Landon Bush, another strong striker who likes to put on the pressure early.
Bush's last trip into the Fight For It arena was a 2021 loss to Xavier Poole at FFI XI. But, as with Burwell vs. yang, the scorecards only paint part of the picture. Bush came out strong in the early rounds, keeping Poole on the back foot and finding success in the early goings. It was Poole's counter-striking and Bush's fatigue in the third round that turned the tides. If he tries to execute the same game plan against Burwell, Bush could well find himself in similar trouble on April 9.
Based on those past performances, look for Burwell to take the advantage with lessons learned in his debut's early rounds, and match it with his proven durability and tenacity through the full bout. If he can weather Bush's attacks and turn the momentum in his favor as Bush starts to tire, expect Burwell to taste victory after the final bell.
---
Fight For It XIII goes down Saturday, April 9 at the Downtown Spartanburg Marriott in Spartanburg, SC. Purchase your tickets now at fightforitcompany.com.
Be sure to download the Fight For It app on on The App Store or Google Play to pick your fantasy winners at Fight For It XI. The pool is free to play and will award the top three scorers with their share of a $500 cash prize.