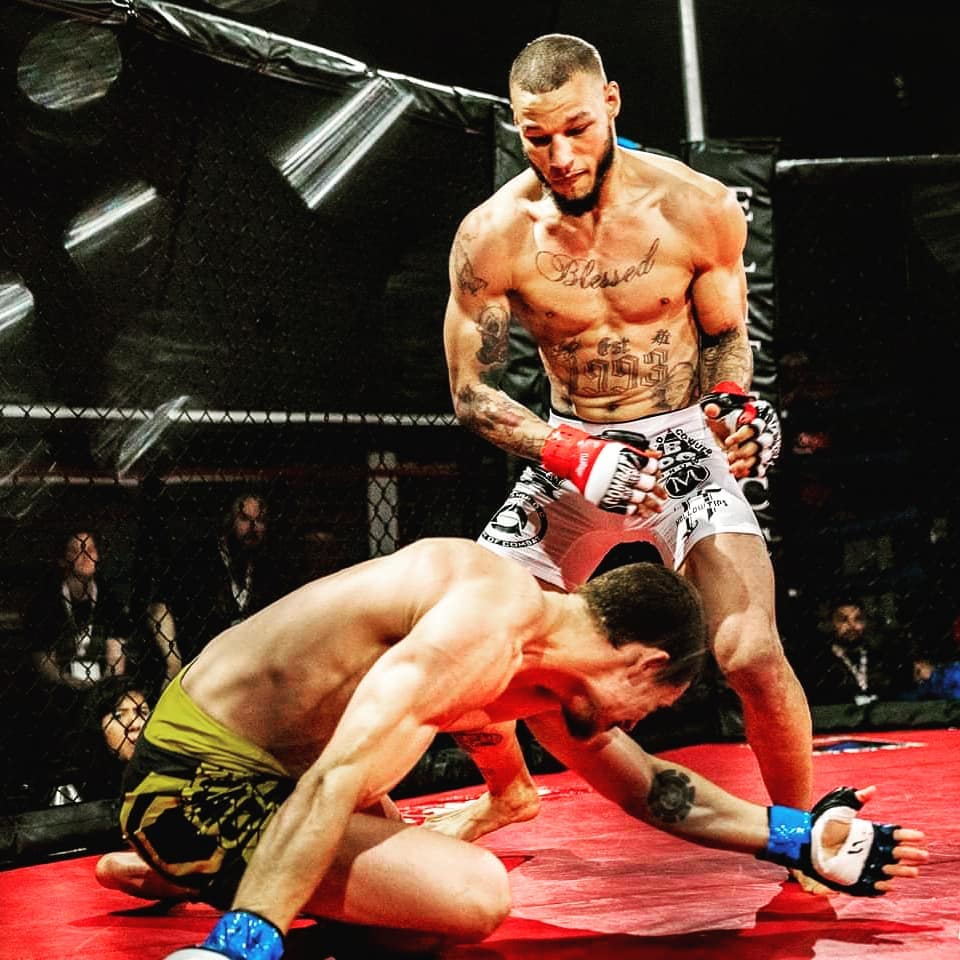 This past Saturday Fight For It returned to the Carolina Select Volleyball club in Hickory for its sixth show and second event in their circuit series to once again bring some of the most exciting amateur combat sports action in the Carolinas to the ring and cage.
The event kicked off with a quintet grappling match between Coach Cody Maltais's Elevate MMA Academy and Apex based Open Guard Brazilian Jiu Jitsu led by Coach Wayne Spinola. The five on five grappling match was action packed and had an intense pace, with the first submission coming from Elevate's Patrick "Patty Bottle Service" Hennesy latching on his signature straight ankle lock in just 18 seconds to give Elevate an early lead. The Open Guard team was able to get back into the lead thanks to the combined efforts of Phil Misiell who took out two members of the Elevate team and Anthony Edwards, who returned from a knee injury earlier this year to submit Neal Ritchie to put Open Guard BJJ in a position to win as Elevate's last competitor entered the cage. However, the anchor competitor for Elevate was Coach Cody Maltais who was able to submit both Anthony Edwards and Wayne Spinola back to back with his signature mounted guillotine technique. This was a very exciting grappling match and the perfect way to kick off the show, leading into the start of our kickboxing card.
The kickboxing portion of the show featured some exciting matchups between several amateur competitors from all over the state and beyond. Starting off the card was Omer "Omiiyo" Hassan vs Tee Yang out of Atlantic MMA. The Sudanese Hassan fought a technical fight and used fluid kicking combos to keep Yang guessing throughout the fight as he captured a unanimous decision from the judges. Next up we had a lady's kickboxing matchup between Lelani "The Tsunami" Hodgens and Erin Davis; The fight started off with a bang as both girls walked towards the center of the ring and began trading blows, Davis was constantly applying pressure and keeping Hodgens on the back foot and unable to land big counters. In the second round the Tsunami came back strong, but the BC Kickboxing trained Davis was able to secure the third round and the judge's decision as well.

The next four fights were a virtual war of welterweights, with the first matchup featuring the debuting fighters Ryan Craven of Elevate MMA and Arjuna Caples out of the Statesville Fighting Academy. These two debut fighters were well prepared and it showed in the fight, with Ryan Craven pressing the action throughout the first round and most of the second. Arjuna Caples though bloody from an early shot hung tough and made it more of a battle as Craven began to fade, the judges saw this as a close fight with Ryan Craven picking up the split decision. After that, Phil Kratz of Rogue Combat Club was able to secure a win and improve his record to 2-3 when he took on Dillon Cole of Salvation MMA. Kratz was able to use reach to keep Cole out and utilized leg kicks to take away from the base and power that Cole brought to the table. Then, we saw Durham PD officer and Elevate MMA fighter Christopher "Gonzo" Gonzales take on the hungry (no pun intended) and well prepared debut fighter Zach "The Cannibal" Thrift out of Hillside MMA. Thrift was making it a brawl and throwing wild strikes but Gonzo weathered the storm in the first and showed patience throughout the rest of the fight, chipping away at Thrift for the Judge's decision to improve his record to 2-1-1. Our last welterweight showdown of the evening was between Shayaan Khokhar aka Shayino (Shy-een-yo) and Zachary Faulkner of TFTC Academy Raleigh. Faulker was making his kickboxing debut but had previous combat experience from MMA and it showed, he was able to outpoint Khokar in a close fight in which he earned the judges decision.

Our co-main event of the evening featured Cliff Gunderson returning from his electric KO at the last Fight For It Event to take on Jordan "The 9 Tail'd" Fox in a clash for the inaugural 145lb Fight For It kickboxing championship. The fight was close, Fox used showmanship and taunting to draw Gunderson into a firefight. Gunderson was taking over in the later rounds when he was warned by Referee Dale Frye for throwing a spinning back fist and making contact with his elbow. Shortly after in the next round, Cliff threw another Spinning attack and the elbow made contact with Fox. Under North Carolina Amateur kickboxing rules, elbow attacks of any kind are illegal and the responsibility of the person throwing the strike. Gunderson lost a point in the final round, the closest round of the fight up until that point. The judges announced a DRAW for the championship match, leaving both fighters and the crowd unsatisfied and the championship belt without a home. Gunderson has stated on social media he will be seeking another shot at the belt for his next outing.

The main event of the kickboxing card was another title bout, this time at heavyweight between Roland "Roly Poly" Mizell coming off a huge TKO win last Fight For It and the only man to beat Mizell in his 4 fight career, Deyshaun Robinson-Jeter. Deyshaun brought huge punching power to the table and was looking to scrap with Mizell early. Mizell used his footwork and ringsmanship to maneuver around Robinson-Jeter, giving him time to adjust and find his range and timing. As the fight went on, both fighters took massive damage to their legs and bodies, with Roland sporting a red welt on his leg from the efforts of Robinson-Jeter. Once the championship rounds rolled around it became The Roly Poly show as Mizell was able to put a heavy effort on late in the bout to solidify a judge's unanimous decision becoming the new heavyweight kickboxing champion for Fight For It.

The MMA portion of our card started late in the evening, but got back on track quickly thanks to the efforts of these extremely talented local fighters. The first two fights of the night ended in a combined fight time just over 4 minutes! Kicking things off was Micah Harnden, the returning Independent fighter was victorious at the last Fight For It with a first round submission and he wasted no time on this outing either. Harnden secured another 3 points in the Fight for It circuit when he choked "Prince" Ahmed Khamis unconscious with a "no arm D'arce" or Modified Guillotine choke from his knees in quick fashion. The second fight saw debuting fighters Garrett Rosenbaum of Atlantic MMA and Brady Revis of Scott Clawson's Fight Factory scrap it out. The 165lb fight was as intense as it was quick, with Rosebaum landing a bomb of a jab and hook combination to sit Revis down and he began pursuing the finish. However, Revis was down but not out as he recovered his guard and attacked from the bottom with an armbar that he was able to finish, securing the win in dramatic fashion. Our next bout saw Jeff Henry of Gym-O take on Cody Reece of the highly touted Team ROC. Reece landed a bomb of an overhand early on that he converted into a slam; Jeff Henry would spend much of the fight recovering from this sequence as it was nearly fight ending, Reece continuously went back to the grappling and wrestling he found success with early until he was able to lock in the rear naked choke in the 3rd round.

The action in this MMA card just kept rolling as another set of Debut fighters made their way into the cage, this time in the bantamweight division. Sam Cornacchione of Fight Factory in Salisbury took on Primal MMA's Jacob Dalton. The two engaged in an exciting affair that featured primarily grappling in the first round where both fighters were able to sweep and get the upper hand on one another. In the second round however, Cornacchione was able to secure the back and locked in a deep RNC to pick up a win in his MMA debut. Next up, at lightweight Gaberial Brown of Revolution Martial Arts took on BillyJack Cupp of Team ROC; Cupp is a respected and established grappler in North Carolina and he was able to implement that same game here, locking in a D'arce choke that Brown could not escape from, it looked like the fight was just about over when he moved his hands to the top of his head, most people watching saw as a tap, Brown contested the stoppage, but the referee Joseph Hawes called the fight for Billy Jackcupp by Technical Submission. Then in our MMA heavyweight bout of the evening we saw David DC Ciuclea make the walk to the MMA cage for the first time after his success in the kickboxing ring at Fight for It 5, to take on Atlantic MMA's Marquell "Thumper" Fullwood-Jones. The fight did not last long with the one they call Thumper landing a blasting straight punch to the nose of DC, the referee stepped in and stopped the fight shortly after.
And as if the first half of our MMA card wasn't exciting enough, the second half delivered some even more interesting matchups at the very least; starting with the return of touted prospect Dylan Williams of Atlantic MMA, who looked phenomenal in his Debut in March at the last fight for it, taking on Nha A in a back and forth fight that showed us far more of Williams tool set than we saw on his previous outing. Williams advanced to 2-0 when his hand was raised after the reading of the judge's scores. The next fight saw Roger Carroll fighter Kendal Morris victorious over Ali Shokri at welterweight when he was able to knock Shokri out cold with a staggering combination against the cage. The quick knockout moved Morris to 2-1 in fashion and moved us right along into our co-main and main. The Co-main event saw two undefeated amateur prospects clash as Levi Whitlow, coming off a big win against Colin Godbout last march at Fight For It took on Tylor Sigmon of Primal MMA. Sigmon utilized his experience as a former high school and collegiate wrestler to take Levi down and control him against the cage until Levi was forced to sprawl and post out to prevent himself from getting slammed, Sigmon took advantage of the opportunity and cinched a Japanese neck tie in that would cost Levi the first loss of his amateur MMA career.
The main event of the evening was our only pro MMA bout and it was certainly one to remember as Domo "The Problem Child" Brewer took on Octagon MMA's Dalton Atha. Atha and Brewer were both very accomplished fighters during their amateur careers and came into this fight looking like they had many pro fights under their belt already. For these two guys to take this fight knowing how much of a threat the other one was says a lot about both of them. It was an absolute war for 3 straight rounds, with Atha getting rocked and nearly finished early in the first round, to rallying back and looking very good in the second round, taking the back of Brewer and utilizing his Jiu Jitsu skills to nearly secure a submission a few times against the Problem Child. However Brewer refused to go away and was a constant threat on the feet, each time one of shots his connected clean with Atha the entire venue could practically feel the power of. The third round was a back and forth scrap that could have been seen as a victory for either fighter depending on the judge, when the dust settled it was Domo Brewer who had his hand raised after a fight that didn't lose either guy any stock, but certainly bodes well for his future as a pro if he's starting off with a performance like this.

Overall, the event was stellar from top to bottom, the kickboxing fights were the perfect appetizer to get the crowd ready for the finish heavy and friendly MMA card. The fight of the night was without a doubt our main event, which was certainly worth sticking around for. The best performance of the night in this analyst's opinion was Micah Harnden, who seems like a hot prospect with two back to back submissions in the past two months and leading the way in the Fight for It Circuit points system. The knockout of the night was a tough choice between our two finishers Marquell Jones and Kendall Morris but I found Marquell's KO coming off of his tough loss to Dalton Taylor last month a great way for him to come back and you could tell he was very fired up in the cage afterwards. Finally with so many great submissions on this card it was nearly impossible to pick just one but I was very surprised and impressed with the armbar Brady Reavis was able to finish after getting rocked in the opening moments of the fight and nearly finished, it was a great comeback and a perfect example of what makes our sport of Mixed Martial Arts so unpredictable and exciting. Thank you to all the warriors that made their way to the ring or cage this past weekend at Fight For It IV and putting it all on the line to entertain your fans. Fight For It returns to the Carolina Select Volleyball Center in Hickory on July 13th for our next installment, Fight For It VII!