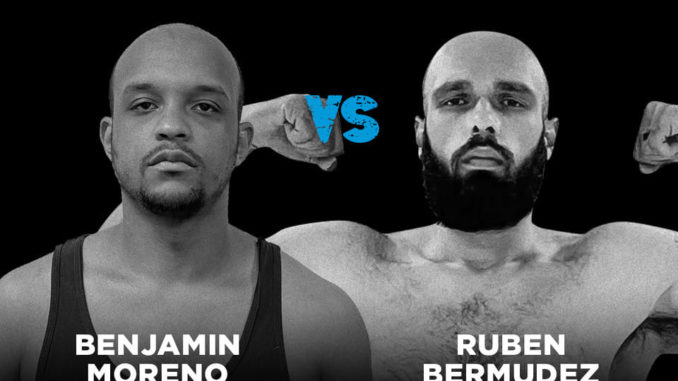 Benjamin Moreno and Ruben Bermudez both have to face the idea of a late-notice opponent change. Both men were training to fight on April 9, but not to do battle against against one another. When their previous opponents pulled out without explanation, the new match was made. Hopefully adequate adjustments to their game plans have been made, as well.
 
Training footage suggests that Bermudez will rely on his boxing experience in this kickboxing match against Moreno. Bermudez brings plenty of boxing experience, and coming out of the always strong Atlantic MMA camp, he has the right team behind him. His training and experience, coupled with his very healthy lifestyle and proven disciplined and focused mind make him a strong contender. And if the footage can be relied upon, expect heavy body attacks from Bermudez.
 
However, Moreno seems to express some frustration over the change of opponent. On social media, he has expressed "hard times" and "life-changing events."  But, in time for fight week, Moreno's latest post revealed that his composure is reestablished and his focus is back on track. Training footage from his gym, Body Shot Combat, shows focus on multi-leveled attacks, moving from side to side, as well as high to low.
Regardless of the change in opponent, there is no change in the mindset of either man. You don't need training footage or a strong imagination to know that big men bring big bombs. The winner will be the one who can fire first, fire often, reset and fire off again. When it comes to the odds-making, I like the "beautiful mind" of Bermudez, and I see him winning by decision.
---
Fight For It XIII goes down Saturday, April 9 at the Downtown Spartanburg Marriott in Spartanburg, SC. Purchase your tickets now at fightforitcompany.com.
Be sure to download the Fight For It app on on The App Store or Google Play to pick your fantasy winners at Fight For It XI. The pool is free to play and will award the top three scorers with their share of a $500 cash prize.