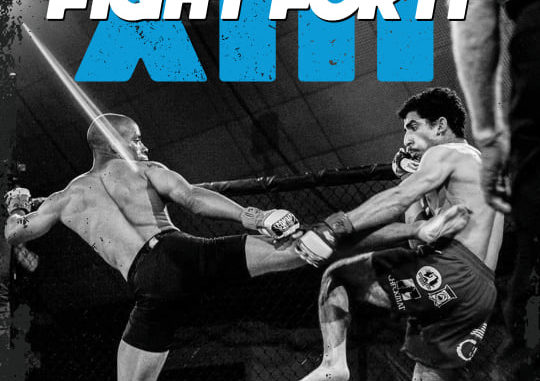 A recent addition to the Fight For It program, youth MMA — contested under the US Fight League's modified rules for youth Pankration — promises a vision into the next generation of MMA talent. Competing with the full scope of skill-sets, but limited striking, the youth rules promise to prioritize technical ability over brutal offense. In addition to keeping the young athletes safer, it also promotes a skill-oriented approach that should create some sharp back-and-forth duels.
And at Fight For It XIII, there are three such bouts on tap.
First on deck, duking it out at 55-60 lbs, the 0-1 Layne Maher, out of Hayastan MMA, challenges WAOTA's 0-1 Titan Ray. Maher has shown his grit in both kickboxing and MMA at Fight For It events, and will look here to avenge his loss against WAOTA's Jacob Thompson at FFI XII. Meanwhile, Ray, will look to keep his team's streak alive. Though these are the smallest competitors on the card, be sure, they are mighty indeed.
Next up, Bad Apple MMA's Kaleb Watts (2-3) stares down WAOTA's Thompson (1-1) in a bout at 65 lbs. Thompson has already found success at Fight For It XII, but here he'll battle a more experienced opponent, while giving up the reach advantages he had over Maher. As Watts aims to balance his record, expect this one to be a barnburner.
Finally, Eli "The Jedi" Young, out of American Top Team, debuts against another WAOTA fighter, Seth Chastain at 65 lbs. WAOTA is led by MMA vet Chase Gamble, who is also the State Director for both North and South Carolina for the United States Fight League's Youth Pankration tournaments. Gamble's team has shown its consistency early on, but as the opportunities for youth MMA competition expand, expect to see more challengers step into the cage.
At Fight For It XIII, you'll see the growth of combat sports for the next generation in real time. Don't miss it when these young athletes showcase their skills in the cage.
---
Fight For It XIII goes down Saturday, April 9 at the Downtown Spartanburg Marriott in Spartanburg, SC. Purchase your tickets now at fightforitcompany.com.
Be sure to download the Fight For It app on on The App Store or Google Play to pick your fantasy winners at Fight For It XI. The pool is free to play and will award the top three scorers with their share of a $500 cash prize.