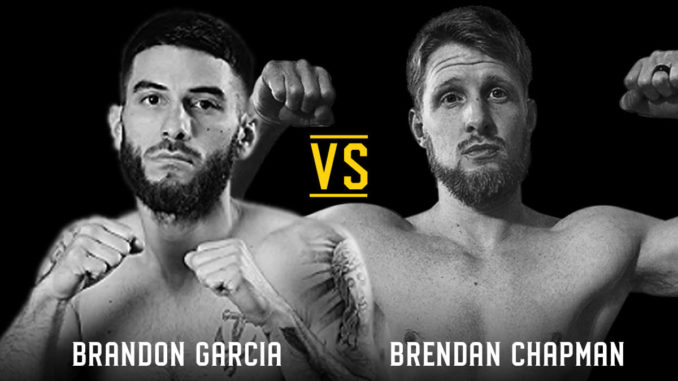 Can you be too tough for your own good? Both Brandon Garcia (0-1) and Brendan Chapman (0-1-1) enter this bout looking to shift momentum in their favor and earn a first win. It's clear that tasting defeat inside the unforgiving MMA cage hasn't dimmed the fires inside of them. 
In his first bout, Team ROC Harrisburg's Garcia came out strong with a barrage of right hands only to be stunned and eventually submitted.
By contrast, Pitch Black MMA's Chapman debuted in a bout that saw him throw 160 strikes overall, landing a head kick knockdown in the first and suffering a knockdown in the third, which led to a draw.  His second fight saw him stopped in the first.
Given the fact that Garcia is 32 years old, and Chapman's 28 — in an era when mixed martial artists are starting younger, getting better every day, and in some cases notching a dozen wins by their early twenties, it's clear these competitors are in it for themselves. There is no back down in either man. The nod comes down to competition experience, which gives Chapman the edge in this one.
---
Be sure to download the Fight For It app on on The App Store or Google Play to pick your fantasy winners at Fight For It X. The pool is free to play and will award the top three scorers with Fight for It merchandise prize packs.