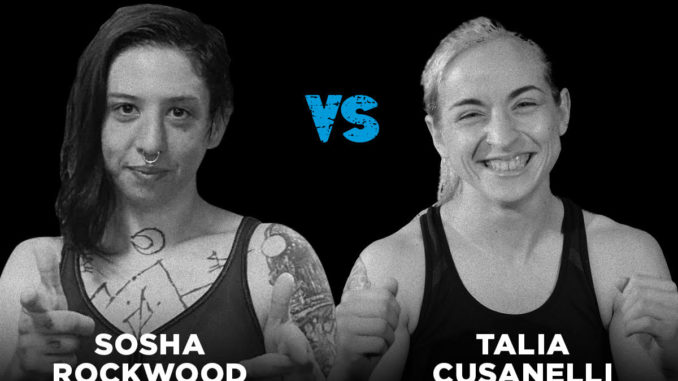 Sosha Rockwood has been missing from action inside the Fight For It cage since she battled Carma Radford in a fight of the night contender at Fight for It VII in 2019. Rockwood arrives at Fight For It XIII, coming off a split-decision loss — her first loss in MMA — in September of 2021. The former TFTC standout now trains out of Tapout Fitness with the legendary Marcus Paul Davis, a move that has this analyst very curious to see how much Rockwood has changed as a fighter since we last saw her.
Opposite of Rockwood in this upcoming bout is the highly touted Hometown MMA prospect and fellow Oak City fighter Talia Cusanelli. Cusanelli burst onto the female MMA scene with her dominant TKO over Kelsi New at Fight For It XI last October. Since that first big victory Cusanelli has continued to refine her skills under Coach Trevor Hayes' new Hometown MMA banner, and in training with some of the biggest names in the Carolinas' WMMA scene.
Make no mistake, this fight is a big one for fans of Women's MMA. Both fighters have been all action in their past outings and tend to constantly push the pace, particularly in the grappling realm. On one side of the cage you have Rockwood, who's certainly got more experience than her opponent in terms of sanctioned fights, mat time, and years training. On the other side, you have a fighter in Cusanelli who has seemingly made the most of the short time she has been training towards the goal of becoming a professional MMA fighter. Here, she'll be taking a big step up in competition from her first fight.
Either one of these warriors is capable of snagging an early finish, but I have no doubt that they could just as easily go to war for three straight rounds. Either way, the fans are going to be in for a great fight when these two women touch gloves.
---
Fight For It XIII goes down Saturday, April 9 at the Downtown Spartanburg Marriott in Spartanburg, SC. Purchase your tickets now at fightforitcompany.com.
Be sure to download the Fight For It app on on The App Store or Google Play to pick your fantasy winners at Fight For It XI. The pool is free to play and will award the top three scorers with their share of a $500 cash prize.