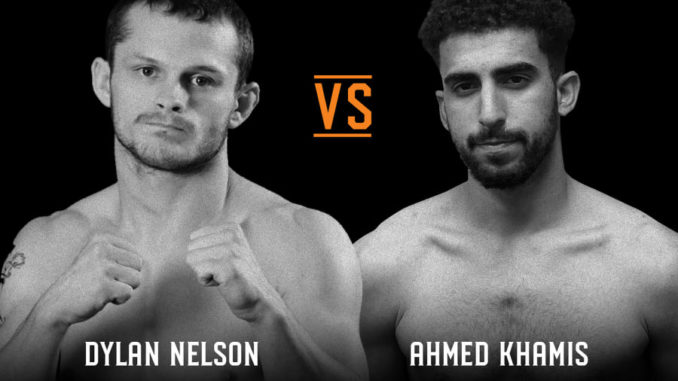 Going into this fight Ahmed Khamis has to take advantage of his training experience. He's been in some type of camp consistently since 2018, even if the fight fell through. He has put himself on even footing with Dylan Nelson in 2021 with a record of 2-1 for the year so far. The fight gods demand he take advantage of it.
We have also seen that Nelson tends to fade in longer fights, which could give an edge to a well-conditioned opponent. However, Nelson's explosive finishing power in the early rounds can make his opponents re-think their combat sports career. Plus, Khamis has problems with the takedown and Nelson likes to shoot more than he strikes.
If Khamis has been training to keep range, stuff the takedown, and get back to his feet, he can win. But conventional wisdom tells me that Nelson is going to "Triple H" Khamis — which means he'll shoot for a high-crotch takedown, unload a barrage of heavy-handed ground and pound, and his hands will be lifted as they announce him as the winner. The way I see it, Nelson wins by stoppage.
---
Fight For It XI takes place on Oct. 23 in Gaffney, S.C. Purchase your tickets now at fightforitcompany.com.
Be sure to download the Fight For It app on on The App Store or Google Play to pick your fantasy winners at Fight For It XI. The pool is free to play and will award top scorers with their share of a $500 cash prize.