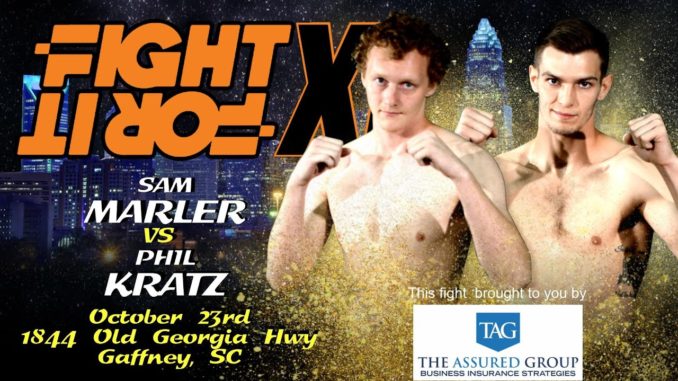 It's been two years since Phil Kratz waged war on the Fight For It stage, losing a championship bout against Josh Crouch at Fight For It VIII. But Kratz has not been idle in his time away from the promotion, adding six more bouts to his record in the interim. Sam Marler returns after a bout with BillyJack Cupp at Fight For It X in February, looking to avenge his first loss, handed to him by the seasoned MMA fighter Cupp.
But Kratz's time away from Fight For It seems to have delivered plenty of lessons. He entered the cage with a 3-6 record, but carried himself like a champion, maintaining composure through three rounds as he set about picking apart Marler both at range, and in the clinch. Marler seemed to be on the hunt for a heavy shot to turn the tides, but as Kratz walked through his attacks with accurate combinations, it quickly became apparent that "King" Phil Kratz would reign here. Sure enough, the judges' unanimous decision shifted Kratz to 4-6, while Marler falls to 2-2.
Looking for more combat sports action? Download the Fight for It App to play Daily Fantasy for Combat Sports on iPhone or Android!