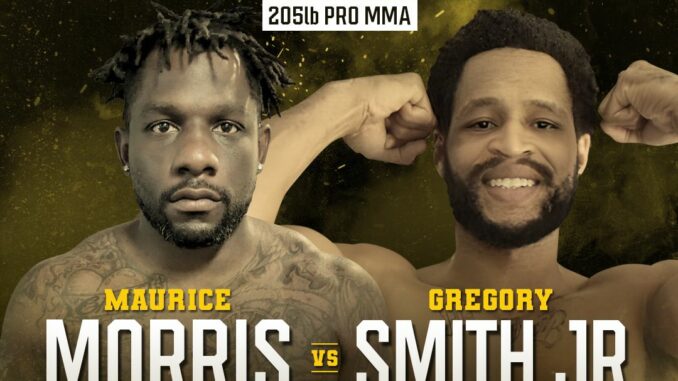 Don't call it a comeback — at least not yet. When Gregory "Reignman" Smith, Jr. makes the walk at Fight For It XVII, it will be the first time he's fought since 2021. After Roger Pratcher dropped off the card, Maurice Morris stepped in to take the challenge, mere weeks after notching a first-round submission victory over Zion Tomlinson at Next Level Fight Club 16.
Smith will have the memory of victory — a first-round knockout over Cody Rolling at Next Level Fight Club 12 — for motivation. But he'll have to put a stop to Morris' two-fight win streak to reclaim glory. Morris' Oct. 28 victory at Next Level Fight Club putting him at 5-3 overall — was a quick win, and should have him feeling relatively fresh without having endured much damage. But keeping the discipline of training camp and enduring fatigue from consecutive weight cuts could risk dulling Morris' edge.
That said, Smith (1-2) will have to trust that his training camp got him fully prepared to take on a more active combatant, and that he'll be able to shake off any "ring rust" in the opening moments.
Finding the appropriate valance of activity and recovery is a vital compoennt of any fighter's training regimen. Here, we'll see whether time off brings fresh energy, or a highly active competition schedule reaps the greater rewards.
---
Fight For It XVII brings a heavy slate of kickboxing and MMA action to Charlotte's Grady Cole Center on Saturday, Nov. 4. Catch every moment live or streaming via pay-per-view. Kickboxing prelims start at 3 p.m., and the MMA card ignites at 7 p.m. Tickets for the live event and pay-per-view stream are available now via fightforitcompany.com.
And be sure to download the Fight For It app on on The App Store or Google Play to pick your fantasy winners at Fight For It XIV. The pool is free to play and will award the top three scorers with their share of a $500 cash prize.